About Deptford Lounge and Tidemill Academy
Read about the multi-award-winning Deptford Lounge development, which houses a library and Tidemill Academy primary school.
In the multi-award-winning Deptford Lounge you can borrow a book, use a computer, play sport, learn a new skill, meet with like-minded people, organise community activities, access council services, have a coffee and a cake and lots more.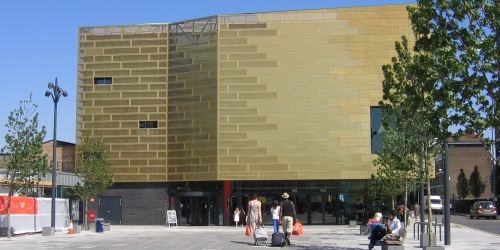 Deptford Lounge opening hours and contact details.
Events at Deptford Lounge are programmed by the Albany Theatre on behalf of Lewisham Council.
To enquire about booking a room or other space at the Deptford Lounge, please email lauren.gayle@lewisham.gov.uk.
The Lounge is part of a development that also includes a state-of-the-art primary school, occupied by Tidemill Academy, with which the community shares space and facilities, plus Resolution Studios, consisting of 38 affordable apartments with nine studios for local businesses and an exhibition space.
Deptford Lounge presents a dramatic backdrop to Giffin Square through the use of a gold-coloured perforated copper skin, a translucent envelope which literally wraps together the many co-located facilities.
Tidemill Academy, in contrast, has an intimate cloistered feel, with large oak-framed sliding doors and cladding enclosing the courtyard playspace. Classrooms wrap around a large courtyard garden, and school facilities shared with the community, including a rooftop sports pitch, are located within the adjacent Deptford Lounge building.
The complex has been designed with separate access points from Deptford Lounge and the school. This enables the school to have sole use of the shared facilities during the school day, while out of school hours the shared facilities form an integral part of the Deptford Lounge and are open to the whole community.
Resolution Studios
These are situated along the north side of the Deptford Lounge/Tidemill School complex, facing onto Resolution Way – and includes 38 affordable 1 and 2 bed homes, nine artist work studios and an art gallery. The homes are being managed by London & Quadrant Group, while the gallery and studios are being managed by local art group TemporaryContemporary.
Awards
Jointer winner, Culture & Community category, New London Awards 2012

Winner, Unbuilt category, World Architecture News Awards 2011

Shortlisted, Award for Design Excellence and Mixed-Use Development Of The Year, Regeneration & Renewal Awards 2012
Published on: 19/02/2019