Book your wedding or civil partnership ceremony with us
Our venues and their fees and locations.
Evelyn Suite
The Evelyn Suite has a maximum capacity of 40 (36 guests plus the couple plus two witnesses).
Register Office (statutory room)
Suitable for a simple wedding ceremony or signing a Civil Partnership schedule. A maximum of four people can attend - this is the couple and two witnesses.
Accessibility
Both rooms (the Evelyn Suite and the Register Office room):
are on the ground floor
are fully accessible for wheelchair users
have a hearing loop installed
There's also an accessible patio garden outside where you can take photographs.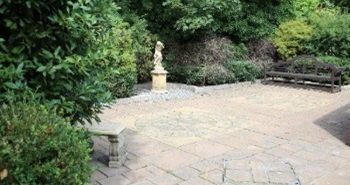 How to book the Evelyn Suite or Register Office room
You will need to pay the room fee in full at the time of booking. Contact us by email or phone to book.
Fees
Ceremonies in the Evelyn Suite
368 Lewisham High Street
Monday-Thursday - £261
Friday - £320
Saturday - £380
Sunday/bank holidays - not available
Ceremonies at all external venues
Monday-Thursday - £560
Friday - £624
Saturday - £782
Sunday/bank holidays - £848
Ceremonies in the Register Office
368 Lewisham High Street
Other venues licensed to hold civil ceremonies in Lewisham
Once you have spoken to the venue, you will need to contact us to book registration officers to conduct the ceremony. Do not book the venue until you are sure that a registration officer is available.
Apply to hold ceremonies at your venue
If you run a venue and would like to license it for marriage and civil partnership ceremonies you will need to apply for a venue licence.
Opening hours:
Monday and Tuesday, 9.10am–4.15pm
Wednesday, 10.10am–4.15pm
Thursday and Friday, 9.10am–4.15pm
Saturday by appointment only
Phones answered: Monday–Friday, 9am–5pm.
Published on: 18/07/2023