Frankham Street parking boulevard
About the new parking boulevard on Frankham Street.
The car parking boulevard is a tree-lined avenue with parking spaces provided on both sides of Frankham Street.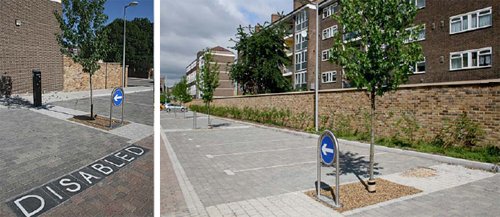 The pay-and-display parking bays give convenient access to Deptford Market and Deptford High Street, Wavelengths and the Deptford Lounge complex.
Controlled Parking Zone (CPZ) for Deptford town centre
The CPZ was introduced in 2009 to:
control intrusive parking by commuters and give priority to residents and businesses

improve the local quality of life by removing obstructive parking from junctions, corners and pavements

allow free access for local people and the emergency services

free up spaces and reduce congestion

reduce pollution and improve air quality to benefit the health of the entire community.
Parking for market traders
Traders can still park for free on Comet Place.

Hamilton Street car park is now open from 7am for the sole use of market traders on market days.

If you have a business permit you can park in Frankham Street car park or New Butts Lane.
Published on: 13/02/2023