New Cross Fire 40th anniversary
Find out about our New Cross Fire memorial service, which has now moved online.
Lewisham is in National lockdown: Stay at home restrictions
On 18 January 1981, the New Cross Fire led tragically to the deaths of 14 young Black people. This year marks the fortieth anniversary of the New Cross Fire.
A memorial service to mark the anniversary, recorded at St Andrew's Church Brockley can be viewed here.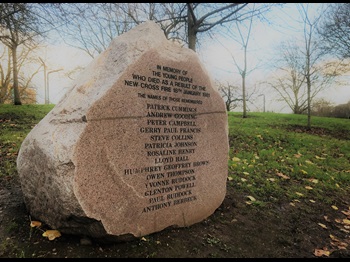 For more information contact events@lewisham.gov.uk or call 020 8314 7321.
Remembering all those who lost their lives:
Patrick Cummings, 21 September 1964 – 18 January 1981
Andrew Gooding,18 February 1966 – 18 January 1981
Peter Campbell, 23 February 1962 – 18 January 1981
Gerry Paul Francis, 21 August 1963 – 18 January 1981
Steve Collins, 2 May 1963 – 18 January 1981
Patricia Johnson, 16 May 1965 – 18 January 1981
Rosaline Henry, 23 September 1964 – 18 January 1981
Lloyd Hall, 28 November 1960 – 18 January 1981
Humphrey Geoffrey Brown, 4 July 1962 – 18 January 1981
Owen Thompson, 11 September 1964 – 18 January 1981
Yvonne Ruddock, 17 January 1965 – 24 January 1981
Glenton Powell, 18 January 1966 – 25 January 1981
Paul Ruddock, 19 November 1958 – 9 February 1981
Anthony Berbeck, 17 August 1962 – 9 July 1983