Weight Limit Restrictions
Information about weight restriction orders for drivers and residents.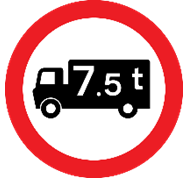 Weight limits can be applied to individual routes or to zones that have been identified as unsuitable for use by heavy goods vehicles. This normally applies to HGVs over 7.5 tonnes maximum gross weight. They are useful for preventing heavy goods vehicles from using minor roads as inappropriate shortcuts between main routes.
Reasons for introducing a restriction of this nature
To prevent damage to the highway infrastructure (carriageway, footways, street furniture) and buildings
Protect the character and environment of the area and residential estates
Manage congestion on our roads
Reduce risks to vulnerable road users, including pedestrians and cyclists.
Exemptions
Vehicles working on or near the roads in question
Emergency service and military vehicles
Buses, coaches and other public service vehicles.