Closing a road for a play street event
Apply for a temporary road closure for children's events.
What is a play street?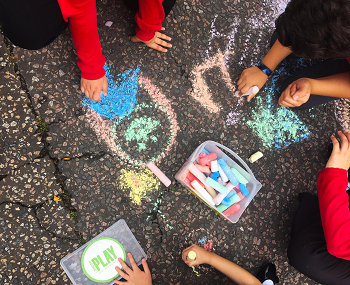 A play street is a community or school-led initiative to close a road for a few hours either as a one-off event or a regular activity. This reclaims the road from vehicles and means children can play safely in the road together.A play street gives children a chance to play and make friends on their street and adults the opportunity to socialise with their neighbours in a car-free environment.
How we support play streets
We support play streets where we can by:
deciding if a road can be temporarily closed safely
publishing the formal legal notices necessary to close a road.
We can permit temporary street closures at regular weekly or monthly intervals. We can also provide support, advice and guidance to residents who want to introduce a play street to their community.
How play streets work
Local parents and residents volunteer to manage the closure process from start to finish, but we will offer guidance along the way. Volunteers must manage:
putting the proposal together
consulting with residents on the street
submitting the application
marshaling traffic at the closure points on the day of the closure
setting up at the start
cleaning up at the end.
The road will be closed to traffic and the area should be kept as car-free as possible. If a resident needs to drive to and from their home, volunteers should guide them slowly through the play street at walking pace.
Reasons to set up a play street
Play streets allow children to:
regularly play outside their school or home
meet others who live nearby
build their independence.
Play streets give adults the opportunity to:
create friendships with other school parents, carers and neighbours
talk to their children about road safety
Safety at play streets
To avoid vehicles driving down closed streets, the play streets are very clearly marked out with road cones and volunteer marshals.
Play streets also make it more difficult for strangers to interfere as parents are always out on the street during the sessions. Neighbours will get the chance to know each other better and it becomes easier to spot strangers and monitor their behaviour.
Regular opportunities to organise a play street
We offer the following opportunities to run play streets:
School summer play street (every summer): application deadline six weeks before event date.
London Car Free Day (23 September 2020): application deadline 1 July 2020.
Regular play streets (monthly closures throughout the year): no specific deadline, but the application process tends to take six to eight weeks.
You can find more information about each type of play street below, but the same application process and guidance notes apply.
School summer play street
A school play street is a regular road closure for two to three hours at the end of the school day on a school road.
The aim is to give children and parents an opportunity to reclaim the school street to stay and play with their friends in a safe environment. Chalk, games, and activities may be offered for children to use in the street.
Initially, we will support schools to participate in car-free summer events where schools will be able to organise and manage street closures during July. The school will choose the exact dates.
Depending on the level of interest, we may need to place a limit on the number of applications we approve for this event. We will prioritise applications based on similar criteria used for the assessment of the Healthy School Streets project.
Schools participating in the summer play street initiatives will be awarded extra points in the selection process for the school streets programme.
London Car Free Day
London Car Free Day is an annual event, taking place next year on Sunday 23 September 2020. It is a free event where Londoners are encouraged to leave their car at home and walk, cycle or use public transport. Communities and schools are also invited to run street parties on their road.
In 2019 there were 35 car free day events in the borough and in 2020 we would love to see even more.
Regular play streets
Some communities have expressed an interest in having a regular closure to facilitate a play street, such as once a week or month. We support this initiative, but regular play streets require a much higher level of commitment from volunteers.
How to apply to close a street for a play street
You can find more information about applying to close a street in the guidance notes section of the application form.
1. Get informal approval to set up a play street
You must ask us if the road is suitable to be closed temporarily for a play street. The street must meet key criteria, including not being on a main road, a bus route or an emergency services route. The play street guidance notes provide more information. Email activetravel@lewisham.gov.uk to find out if your road is suitable. Please specify which part of the street you would like to be closed by, for example, using house numbers.
2. Sell the idea to your neighbours
You'll have to:
gauge interest
try to manage any possible objections
enroll volunteers
spread the message of why you are doing the play street
start to advertise it.
If there are any objections from your neighbours that you cannot resolve, refer them to us and we will make a decision about the dispute. You must attach a copy of all objections to your application.
3. Complete and submit your formal application
Submit your completed application by email to activetravel@lewisham.gov.uk, noting the deadlines.
4. Organise and promote the play street
Once we have approved your application, you should contact the volunteers and those interested to meet and plan the event. You should leaflet all properties along the road that will be closed with details of:
the date and time of the event
how to contact you if there are any concerns or questions.
You must do a risk assessment. A few days before the event, you should post copies of the road closure notice around the street and at the closure points. Finally, you must arrange delivery of barriers and other materials.
5. Send us final confirmation of arrangements
You will need to send an email confirmation that the application requirements are in place and all safety requirements have been met, such as number of marshals, signs and barriers being used.
6. Run the event
We will send you the closure notice, then you can run the event and have fun! If you need it, we can give you more guidance about running a play street.
Find out more
If you are interested in participating in any of the above initiatives and have read through the guidance notes, email activetravel@lewisham.gov.uk. You can also follow us on Twitter and join the conversation by using #carfreefriday and #carfreesummer.