Ultra Low Emission Zone
Find out more information on the Ultra Low Emission Zone (ULEZ) expansion which will be implemented on 25 October 2021, and how you can prepare.
From 25 October 2021, the existing central London Ultra Low Emission Zone (ULEZ) will expand to create a single, larger zone up to, but not including, the North Circular Road (A406) and South Circular Road (A205).
To help improve air quality, ULEZ operates 24 hours a day, seven days a week, every day of the year, except Christmas Day (25 December), within the same area of central London as the Congestion Charge.
Most vehicles, including cars and vans, need to meet the ULEZ emissions standards, or their drivers must pay a daily charge to drive within the zone. The charges are as follows:
£12.50 for most vehicle types, including cars, motorcycles and vans (up to and including 3.5 tonnes)

£100 for heavier vehicles, including lorries (over 3.5 tonnes) and buses/coaches (over 5 tonnes).
Even if you make a short trip in the zone using a vehicle that doesn't meet the ULEZ emissions standards, you need to pay the daily charge. However, if you are parked within the zone but don't drive, you don't need to pay the ULEZ charge.
Where it operates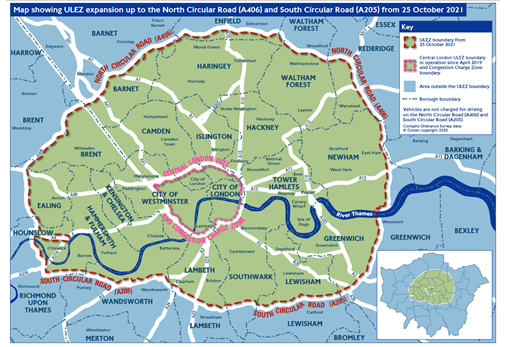 Check your vehicle
Find out if your vehicle meets emissions and safety standards required to drive in London, or if you need to pay a daily charge.
Published on: 10/02/2023