Thinking about drinking
Do you know how alcohol might be affecting your health? Need advice on cutting down?
Do you know how alcohol might be affecting your health? Need advice on cutting down?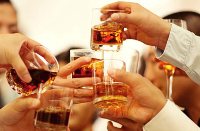 Deaths from liver disease have increased during the past 20 years largely as a result of alcohol-related liver disease.
In the borough over 11,000 drinkers are considered to be at high risk of harm and over 31,000 drinkers are at increasing risk. Alcohol-related hospital admissions are high and are rising.
We are working to raise awareness of the dangers of high drinking levels in the borough and support national campaigns.
Are you a social drinker?
Many people think that street drinkers and binge drinkers are the only ones who are putting their health at risk by the amount of alcohol they consume. However, people who regularly have a bottle of wine with their evening meal or have 'a couple of pints' in the pub every day, are also at risk of long-term health effects.
It is well known that heavy alcohol use can damage your liver but other not so commonly known effects include: reduced fertility, high blood pressure and various cancers of the mouth, neck and throat. You may also find that you suffer from alcohol-related problems including depression, stress, weight gain, poor sleep and sexual problems.
Drink Coach
Drink Coach app
The Drink Coach app lets you track your drinking, set goals, and see how much money you can save.
The alcohol test
The Drink Coach alcohol test is a two-minute survey with ten questions. It will tell you how risky your drinking is and signpost you to additional support.
The test is a digital version of the Alcohol Use Disorders Identification Test (AUDIT) developed by the World Health Organisation
Know your limits
It is recommended that you do not drink more than 14 units a week on a regular basis.
If you drink as much as 14 units a week, you should spread your drinking over three or more days.
If you want to cut down, try to have several drink-free days each week.
Take Drink Aware's self-assessment questionnaire to see how much you drink and to get advice about how to cut down and seek further help. Get advice from the NHS about where to find support with drinking.
How to cut down
If you regularly drink more than the recommended limits, try these simple tips to help you cut down:
When out:
buy a lower strength drink (ABV in %)
try smaller measures such as a halves instead of a pint
go diluted by trying a diluted alcohol drink such as a spritzer or shandy
sip water or a soft drink in between alcohol drinks
opt out of rounds.
At home:
replace the alcohol in your fridge with soft drinks
make a non-alcoholic mocktail
use smaller wine glasses or buy alcohol measures
use up leftover wine by freezing it for future cooking or using older wine for vinaigrette.
Further help and advice
Contact
New Direction, 410 Lewisham High Street, London, SE13 6LJ
Opening hours:
Monday, Thursday and Friday, 9.30am–5pm
Tuesday, 1.30–5pm (women only)
Wednesday, 9.30am–7pm
Saturday, 10am–4pm (family and carers only).
55 Dartmouth Road, London, SE23 3HN
Opening hours:
9.30am–5.00pm, Monday–Friday. Surgery hours vary dependant on GP (please call for details).
Published on: 20/04/2020