English for speakers of other languages (ESOL) courses
See what ESOL courses we offer for adults.
Adult Learning Lewisham UPDATE
Why study ESOL
Due to COVID-19 we will offer both classroom and online courses until further notice.
Find out how to get the most from an online course.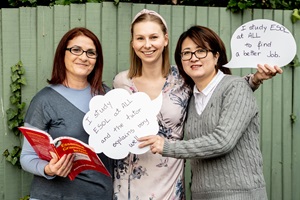 Studying ESOL can help you to:
develop your English language skills in speaking, listening, reading and writing
take part in everyday life in the UK and get a recognised ESOL qualification
prepare yourself to enter further training, higher education or employment
support your children with their homework.
Why study with us
You'll learn in small groups.
You'll have access to excellent resources and technology.
You'll be supported by qualified specialist tutors who are committed to your progress and development.
You'll have access to additional support classes to improve your language skills using ICT.
What courses we offer
Course fees
£225 a term for accredited ESOL courses.
£150 a term for pre-entry level courses.
See if you can get concessionary fees.
Exam dates 2020–2021
Reading: 8– 10 December 2020
Speaking and listening: 29 March–1 April 2021
Writing: 6–8 July 2021
How to enrol
Before you enrol, you need to complete a pre-course assessment (PCA) where we will:
assess your skill level
discuss your goals
recommend the right course for you.
Pre-course assessments take place throughout the year. We will publish dates when they are available.
Pre-course assessments for courses starting in April
You can now book a pre-course assessment for courses starting in April. Assessments will take place online and over the phone between the 25 March and the 4 April.
Find out how to book a pre-course assessment.
After you have booked an assessment the curriculum leader will contact you by phone on 25 March to arrange an appointment for the interview.
Contact