Childcare courses
See what childcare courses we offer for adults.
Adult Learning Lewisham UPDATE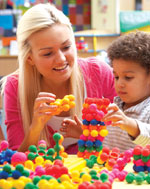 Caring for children is a rewarding and challenging career. Whether you are looking for a new career or you wish to improve your qualifications in childcare we can help you.
About our courses
Qualified, specialist tutors lead our childcare courses.

We offer courses that lead to a qualification and short courses related to specific areas of expertise.

We will give you the knowledge, skills and confidence to help you find a job.

Our courses reflect up-to-date priorities and changes in childcare.
See courses by subject
You can access online modules for Safeguarding Level 1 and Level 2 courses through the Lewisham Safeguarding Childrens Board.
Pre-course assessments
Before you can enrol on a childcare course leading to a recognised qualification, you need to do a pre-course assessment. Pre-course assessments take place throughout the year. We will publish dates when they are available.
Pre-course assessment interviews will be completed by telephone.
Once you have booked an appointment you will be contacted during the allocated time slot. Please make sure we have the correct contact details for you.
Once you have successfully completed the telephone interview you will be invited to attend a literacy assessment.
Find out how to book a pre-course assessment.
Contact