Community alarm system (Linkline Telecare)
Linkline Telecare is a 24-hour alarm system that you can use in an emergency to call for help.
System upgrade launched July 2023
Telecare alarm calls now come through on our new calls handling system hosted by Appello.
You should have received a letter to confirm our colleagues at Appello are assisting us with the alarm calls from 10pm to 7am each night - but please rest assured it's still our local staff that will visit you if you need assistance.
Please remember to press your pendant on a weekly basis to check your connection's still working and check the battery in your device is OK.
As the UK moves towards using a total digital telephone network we'll need to check your connection regularly. If you upgrade your telephone provider please remember to tell them you have a telecare alarm installed.
Who the service is for
The service is available to anyone who feels at risk in their own home because of age, disability, isolation, illness or vulnerability.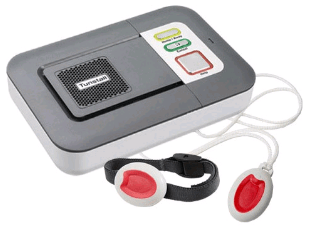 Many older people living alone and younger people with disabilities rely on our service to live independently, safe in the knowledge that they can always get help when they need it.
See some examples of how this equipment has helped people with a range of health conditions.
How it works
We will install a telecare unit in your home. This is an alarm system that plugs into your phone.

We will also give you a personal alarm that you can wear as a pendant around your neck or wrist. The pendant is connected to the telecare unit and will work anywhere in your home or garden.

If there is an emergency, you can call for help by simply pressing the button on the pendant or on the telecare unit, which automatically alerts the Linkline response team.

An experienced member of staff will talk to you and call for assistance to help you.
Home response service
We hold your keys and will visit you in your home if you call and need help.
How to access the service
You can refer yourself or someone you know by downloading the application form at the bottom of this page and returning it to us by post or email.

We will contact you to arrange a time to install the telecare unit.

A unit can be installed in your home within a week and we will also give you a pendant to wear that links to it.

You will need to have an up-to-date BT telephone socket and a three-pin electrical socket on the same wall, within nine feet (2.70 metres) of each other.
How much it costs
There is a weekly charge for the service, but you don't have to pay for the equipment.
The home response service costs £6.57 per week.

There is a £35.00 one-off installation charge.

Calls to the Linkline response centre are charged at your local rate.
Costs are reviewed annually and may be subject to an increase.
Additional services
Other telecare equipment can be linked to your alarm, including:
If a sensor or detector is activated, the unit will automatically call for help. If you are interested in other sensors, you must have a full needs assessment. Find out more about assessments.
All equipment is on loan to you and is owned by Lewisham Council. This means you must return the equipment when you no longer need it so that it can benefit other people.
The UK Digital Telephone Switchover
By 2025 telephone companies in the UK are switching off analogue telephone services and replacing it with digital internet protocol (IP) technology.
Emergency calls will be delivered to an alarm response centre digitally rather than via the old analogue method. This means existing equipment will need to be upgraded or changed completely.
Soon you will be contacted directly by your telephone provider to upgrade to a digital line. Lewisham Linkline are not responsible for any changes to your telephone line and you should speak to your provider to assist you with connecting your router.
The impact for you as a Lewisham Linkline service user
When a region has gone through the digital telephone switchover process, BT and other providers will provide a Home Hub that will become equipped with an Analogue Telephone Adapter (ATA).
The ATA is designed so that you can plug your existing equipment, whether that's a phone or a Linkline alarm unit, into the back of the hub and it can continue to be used as before.
The ATA will be a temporary measure. Service users will have to upgrade their equipment to IP enabled alarms in the future. Lewisham Linkline will be in touch with you about this.
At the present time our Control Room will only receive analogue calls but we are hoping to become a digitally enabled Control Room in 2022. Please ensure you make your telephone provider aware of this.
Additional information about digital lines
All calls will go through the Home Hub, which is connected to the mains power. If there is no power, it will not work. Even if your Linkline alarm has a battery backup, this would not work as it will be connected to the Home Hub.
BT has promised to provide vulnerable residents with a battery backup that can be used in the event of a power cut. However, it will only provide power for one hour of usage. Virgin has promised the same, although they have stated that their battery backup system will only allow residents to call 999, again rendering your Linkline alarm redundant during the power cut.
Once our Control Room is fully digitally enabled with an end-to-end solution, we will be in contact with you to replace your Linkline alarm unit.
More information on the UK digital switchover.
Below are two documents you can download. One shows this full information with pictures for you to determine which telephone connection you have in your property. The other document is the same information and pictures, but with less jargon.
Published on: 02/06/2023