Community alarm system (Linkline Telecare)
Linkline Telecare is a 24-hour alarm system that you can use in an emergency to call for help.
Linkline application form
Pdf, 518.9KB
Download
Who the service is for
The service is available to anyone who feels at risk in their own home because of age, disability, isolation, illness or vulnerability.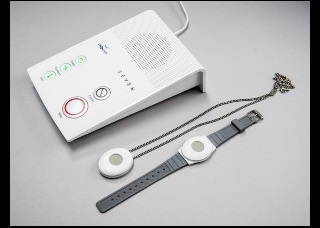 Many older people living alone and younger people with disabilities rely on our service to live independently, safe in the knowledge that they can always get help when they need it.
See some examples of how this equipment has helped people with a range of health conditions.
How it works
We will install a telecare unit in your home. This is an alarm system that plugs into your phone.

We will also give you a personal alarm that you can wear as a pendant around your neck or wrist. The pendant is connected to the telecare unit and will work anywhere in your home or garden.

If there is an emergency, you can call for help by simply pressing the button on the pendant or on the telecare unit, which automatically alerts the Linkline response team.

An experienced member of staff will talk to you and call for assistance to help you.
Home response service
We hold your keys and will visit you in your home if you call and need help.
How to access the service
You can refer yourself or someone you know by downloading the application form above and returning it to us by post or email.

We will contact you to arrange a time to install the telecare unit.

A unit can be installed in your home within a week and we will also give you a pendant to wear that links to it.

You will need to have an up-to-date BT telephone socket and a three-pin electrical socket on the same wall, within nine feet (2.70m) of each other.
How much it costs
There is a weekly charge for the service, but you don't have to pay for the equipment.
The home response service costs £6.25 per week.

There is a £25 one-off installation charge.

Calls to the Linkline response centre are charged at your local rate.
Costs are reviewed annually and may be subject to an increase.
Additional services
Other telecare equipment can be linked to your alarm, including:
If a sensor or detector is activated, the unit will automatically call for help. If you are interested in other sensors, you must have a full needs assessment. Find out more about assessments.
All equipment is on loan to you and is owned by Lewisham Council. This means you must return the equipment when you no longer need it so that it can benefit other people.