Maths GCSE courses
See what GCSE maths courses we offer for adults.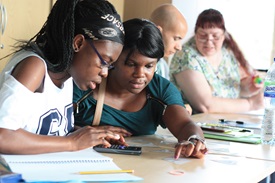 Who is this course for?
This course is suitable for anyone with a good grounding in maths.
We offer both foundation and higher tier maths GCSE. If you aren't ready to take your maths GCSE, you can take our Level 1 Functional Skills course.
What you will learn?
You can read the foundation and higher tier syllabuses by downloading them at the bottom of this page.
How to enrol
Before you enrol you need to complete a pre-course assessment (PCA) where we will:
assess your skill level
discuss your goals
recommend the right course for you.
These assessments take place throughout the year.
Find out how to book a pre-course assessment.
In order to cover the whole syllabus, GCSE learners must enrol by September.
Prepare to study maths
Sign up to Citizen Maths, which has a range of resources for exploring GCSE maths.

Your local library has free internet access and lots of GCSE maths books to help you.
I never knew I loved maths – I really enjoy coming. Every lesson there's something different to learn.
Contact