Maths Level 1 Functional Skills courses
​See what maths Level 1 Functional Skills courses we offer for adults.
Adult Learning Lewisham UPDATE

In line with updated government guidance we will be closed for face to face learning until further notice. All pre-planned remote/on-line delivery will continue as normal.

Where we can move courses online we will do so.

If you have any queries, please email adultlearning@lewisham.gov.uk rather than phoning, allowing us to respond quickly and accurately.

It is possible that government advice will change at short notice. We will provide regular updates on this page.

Lewisham is in National lockdown: Stay at home restrictions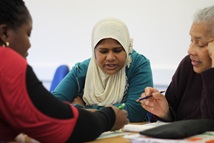 Who is this course for?
This course is for people who need to brush up their maths skills for work or personal use.
What you will learn
On the course you will:
develop efficient ways to calculate

understand and use percentages

work with measurements and shapes

represent data in graphs and charts, and understand averages

work towards a Functional Skills qualification and gain the skills to progress to GCSE

take a final assessment in June 2021.
How to enrol
Before you enrol you need to complete a pre-course assessment (PCA) where we will:
assess your skill level
discuss your goals
recommend the right course for you.
These assessments take place throughout the year.
Find out how to book a pre-course assessment..
How to prepare
My mathematical mind wakes up in these learning spaces. I enjoy the way the tutor doesn't simply give an answer, but gets the class as a whole to work it out for ourselves.