North Deptford regeneration
The far north of the borough includes a number of major sites owned by different private developers.
If and when planning permission is granted for these planned developments, they will be built in phases over a number of years. Along with partners we are discussing the timing and range of any additional facilities and infrastructure – for example, additional school places and new means of public transport – that may be needed in the area as a result.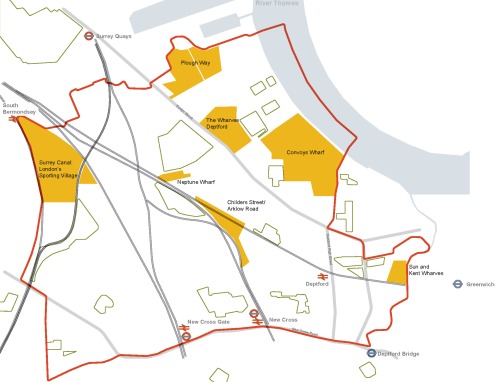 Map by The Landscape Partnership
North Deptford public consultation
In 2008, the Council carried out a programme of activities to help ensure that local people were aware of, and had their say on, the combined impact of all the proposed local developments added together.
The consultation report – which is available below in four parts due to its size –
includes full and frank comments from the various groups who took part in this consultation, including local young people, residents, businesses and public and voluntary sector organisations.
Also available below, for reference, are the exhibition boards used at the various consultation events. (Please note that while the information given on the boards was accurate at the time, in many cases it will now have been superseded.)
Published on: 15/08/2011