Pest control –tropical ants
Find out about tropical ants and book a treatment to get rid of them.
Website survey

We want your help with improving our website so it is easier to use, and provides the information that residents need. Help us by filling in this short survey.
There are many species of tropical ants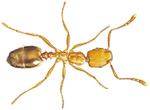 The one you're most likely to come across are Pharaoh ants.
How to control tropical ants
These pests require a professional treatment for effective control. Tropical ants are controlled by using the worker ants to carry a bait back to their nests which can be hidden in the fabric of the building.
Costs
The cost is £156 for up to three visits. Concessions is £78
Payment is non-refundable.