Pest control –tropical ants
Find out about tropical ants and book a treatment to get rid of them.
If you book an appointment you will be asked to wear a face mask whilst our technician visits your property
There are many species of tropical ants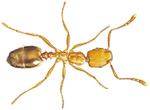 The one you're most likely to come across are Pharaoh ants.
How to control tropical ants
These pests require a professional treatment for effective control. Tropical ants are controlled by using the worker ants to carry a bait back to their nests which can be hidden in the fabric of the building.
Costs
The cost is £156 for up to three visits. Concessions is £78
Payment is non-refundable.