There are many species of tropical ants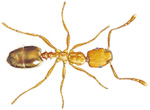 The one you're most likely to come across are Pharaoh ants.
How to control tropical ants
These pests require a professional treatment for effective control. Tropical ants are controlled by using the worker ants to carry a bait back to their nests which can be hidden in the fabric of the building.
Costs
The cost is £136 for up to three visits. Concessions is £68.
To get the concessionary rate, we will need to check your benefit status or your date of birth and address
Payment is non-refundable.