Administration apprentice case study
Jake Nembhard started his administration apprenticeship in 2015–2016, and is now a social media manager for The Players Global.
How I started my apprenticeship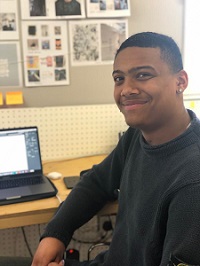 'I started as an admin apprentice in the small business team. I mainly worked on setting up and establishing the DeK project in the Old Town Hall, PLACE/Ladywell and Deptford Library – offering affordable business space for micro businesses in Lewisham.
'After leaving school, I didn't want to continue the route of traditional education. I was 16 and wasn't sure that A Levels were for me. I looked into and applied for an apprenticeship and was lucky enough to be successful.'
What I'm doing now
'I am now a social media manager at The Players Global, representing a number of high profile footballers.
'I would definitely recommend apprenticeships as an alternative to continuing in school. It's a fantastic way to start your career, and it provided me with the opportunity to really learn what I wanted from my career.'