Access inclusion and participation apprentice case study
Jodianne Smith started her access inclusion and participation apprenticeship in 2017–2018, and is now a fair access coordinator.
How I started my apprenticeship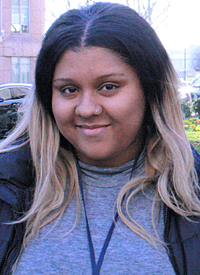 'I completed a Level 3 Business Administration Diploma at Lewisham Council in the education service. I was very much a part of the team, and got all the support I could have ever wanted and more. I gained experience all over the education service and even with the director, which is definitely useful for my CV and current role.
'If I could summarise my apprenticeship in five words, they would be "best decision I ever made". I wasn't really aware of apprenticeships until I came across them online while looking for courses. I researched and noticed that this is a perfect way for me to gain a qualification, experience and a wage at the same time.'
What I'm doing now
'I am now a fair access coordinator for the fair access team, within the education service. I was pleased to gain the role which I had already experience doing. I now have a diploma, experience and a new job within Lewisham Council, which would never had happened if it wasn't for my apprenticeship.
'Do your research, learn about the company and see if you are interested in the type of apprenticeships they do. There are so many different apprenticeships around with different qualifications and levels for everybody.'