Our COVID 19 travel programme in Lewisham and Lee Green
Find out more information on the Council's COVID-19 travel programme in Lewisham and Lee Green.
COVID-19 has had a profound impact on people's daily lives and how they travel. That is why Lewisham Council are implementing new measures across the borough to enable those people walking and cycling to do so safely, whilst also maintaining social distancing.
A key part of these plans is to create quieter residential streets for walking and cycling and this includes measures for the Lewisham and Lee Green area. This decision was based on clear evidence including traffic volumes and the width of footways. Due to the pandemic and the need to react at speed, our plans were introduced from the week commencing 29 June 2020. This includes:
Installing 13 'modal filters', locations are in the map below
Reversing the one-way direction of traffic at Pascoe Road and to introduce a two way working for cyclists
Creating more pedestrian space to support social distancing at the local shops on Staplehurst Road
Investigating segregated cycling facilities on part of Burnt Ash Hill.
You can let us know your views and experiences via the dedicated Commonplace page and you can also write to us at:
Lewisham and Lee Green Low Traffic Area
Highways and Transport
5th Floor Laurence House
Catford
SE6 4RU.
In order to assess the impact of these measures we will be monitoring traffic and air quality on the surrounding roads. We will adapt the measures when necessary based on your feedback to ensure the scheme is as successful as possible, and enable people to travel safely whilst socially distancing.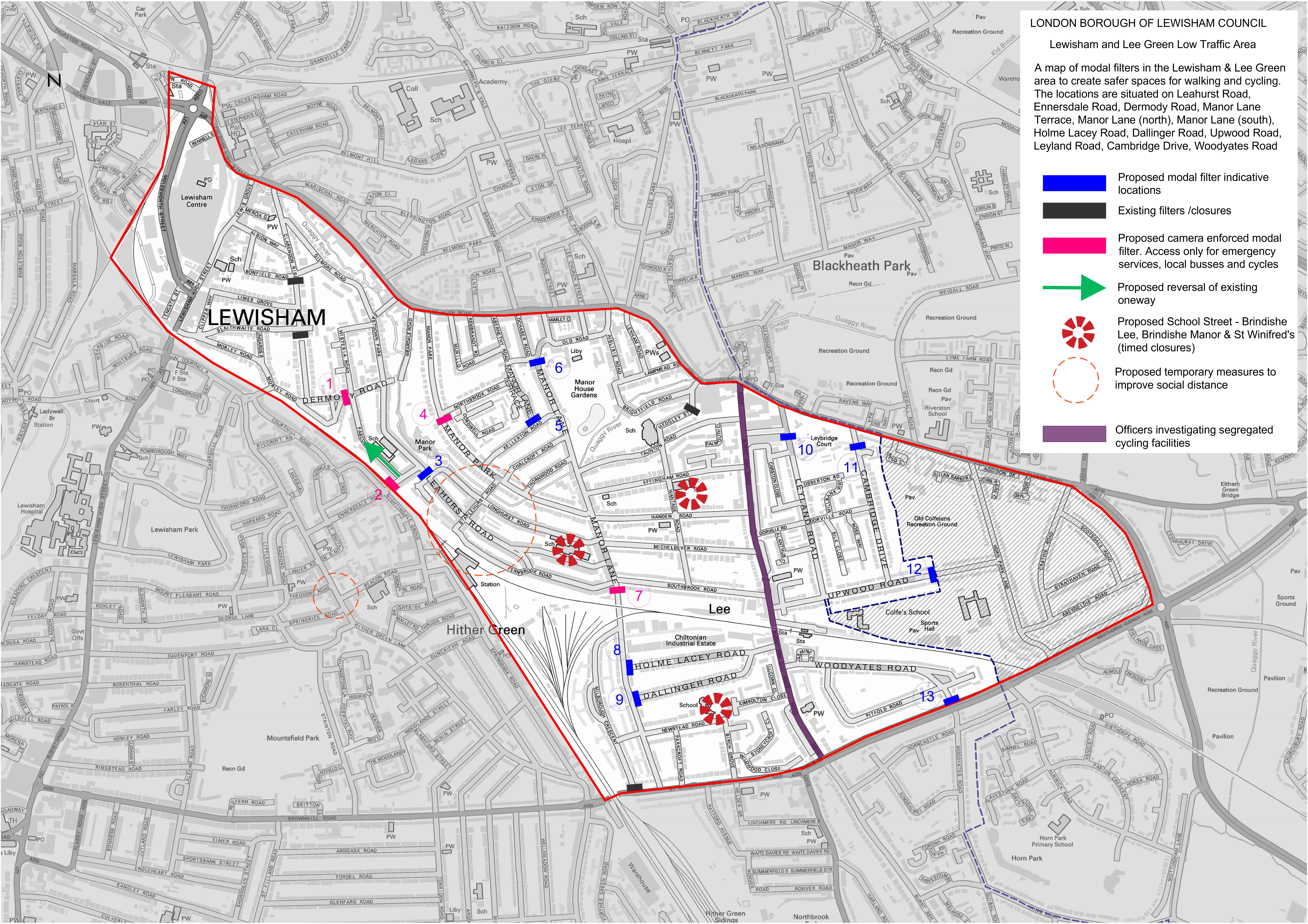 What are modal filters?
A modal filter is a traffic management measure that stops the majority of motor vehicles passing but allows pedestrians and cyclists through. These filters can be managed via cameras or physical barriers such as large flower boxes and still allow for emergency service access.
Modal filter locations
Dermody Road (Camera)
Ennersdale Road (Camera)
Leahurst Road (Physical)
Manor Park (Camera)
Manor Lane Terrace (Physical)
Manor Lane (Physical)
Manor Lane (Camera)
Holme Lacey Road (Physcial)
Dallinger Road (Physical)
Leybridge Court (Physical)
Cambridge Drive (Physical)
Upwood Road (Physical)
Pitfold Road (Physical)
Published on: 13/07/2020