Mayoresses appointed for a second year in time for International Women's Day
Lewisham's Mayoresses Dawn Atkinson, Natasha Ricketts and Christina Norman, will continue their roles for another year.
Damien Egan, Mayor of Lewisham, made the announcement today, coinciding with International Women's Day.
The three inspirational women, who volunteer at the Evelyn Community Store, were appointed as Mayoresses in 2020 for their fantastic work to tackle food poverty in the borough.
The community store, run by the hard-working trio, has been open for 2 years and has supported hundreds of families on low incomes to purchase food at a low cost throughout the pandemic. Since the pandemic started the number of residents using the store has more than trebled and has around 500 members on average.
The volunteers work with FareShare, a nationwide charity that has been helping to re-distribute food since 1994. The food that they collect is surplus and despite being in-date and of great quality, would otherwise go to waste. Members sign up to the store and pay £3.50 per week for food that they collect and make huge savings that can help alleviate the financial burden they are under. The store is open to anyone who lives in the Lewisham and is either in receipt of benefits or on a low-income.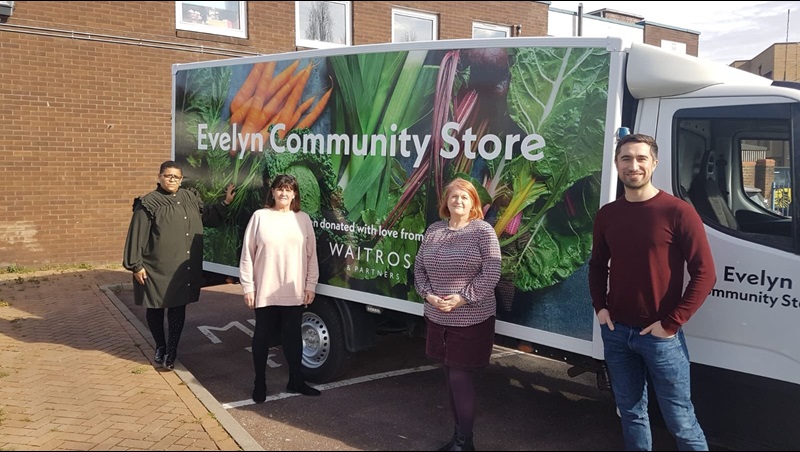 Last month the Mayoresses were left speechless after Tesco and Waitrose donated a brand new delivery van to the Evelyn Community Store, which will help the store get food out to the community where it is needed. The formidable trio's volunteering efforts have caught the attention of footballer and campaigner Marcus Rashford too, who interviewed a number of Evelyn Community Store members on BBC News last August. Watch the interviews by Marcus Rashford on the Lewisham Homes website.
The Evelyn Community Store provided packed lunches for local school children during the October half term (making approximately 7,500 sandwiches!), and distributed around 2,000 Christmas hampers to schools in the borough.
Dawn Atkinson, The Mayoress of Lewisham said:
"It's an absolute privilege to be asked by Damien to stay on as Mayoresses for another year. This year has been exceptionally challenging and through our work at the community store we have seen first-hand just how hard hit Lewisham families have been. We are honoured to be able to work for the people of Lewisham.
"We will continue to work on all of our projects including improving play and leisure facilities for young residents, improving communal facilities and fighting food poverty in Lewisham, many of which we have had to postpone due to the pandemic. We are also eager to continue supporting the various vaccination centres, ensuring that the vaccine rollout continues smoothly."
Mayor of Lewisham, Damien Egan said:
"I continue to be immensely proud of Dawn, Natasha and Christina, and all the incredible work that they do in the community. They have changed the lives of hundreds of local families and given them a lifeline throughout the pandemic.
"I am so excited to announce that Dawn, Natasha and Christina will be continuing their roles as the Mayoresses of Lewisham for another year. I am particularly pleased to share this news on International Women's Day, a perfect time to celebrate all of our inspiring local women."
Lewisham Council is celebrating International Women's Day with an exciting virtual programme this year.
View the full programme of events and International Women's Day features on the I Am Lewisham website.
Deptford Heritage Museum have also produced online events running throughout this week on the theme of 'Women in Transition'. Join a week of conversations using images and objects to construct a picture of how women are surviving the pandemic. View the full Women in Transition event listings on the I am Lewisham website.
Published on: 08/03/2021