Lewisham and Charlottenburg-Wilmersdorf renew commitment to support refugees and migrants
Lewisham and its twin borough Charlottenburg-Wilmersdorf, Berlin, have signed a renewed agreement to continue to work with and learn from each other to support refugees and migrants.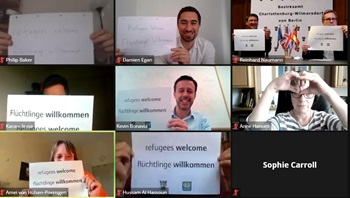 Lewisham and Charlottenburg-Wilmersdorf both have a proud history of supporting refugees and migrants. As an expression of solidarity and friendship, their two Mayors signed an agreement to commit to the regular exchange of ideas and best practice between the councils, their partners and refugee and migrant communities.
The agreement was signed at a virtual meeting, which was attended by Damien Egan, Mayor of Lewisham, Reinhard Naumann, Mayor of Charlottenburg-Wilmersdorf, voluntary groups that support refugees and migrants and refugees themselves.
Lewisham is working to become a Borough of Sanctuary, welcoming those fleeing violence and persecution and protecting the rights of all migrants, asylum-seekers and refugees. So far it has resettled 33 refugee families and has long been campaigning for the UK Government to grant greater protections to migrants and refugees.
Damien Egan, Mayor of Lewisham, said: "Over the past few years Lewisham has emerged as a national leader in resettling refugees, migrants and asylum seekers from across the world. Our community is stronger for its diversity and I am proud that we are on our way to becoming a Sanctuary Borough. Our twin borough of Charlottenburg-Wilmersdorf in Berlin have been helping us from the very early stages by sharing their experiences of Germany's work in resettlement. This new agreement reaffirms our commitment to working together and as a Pro-EU borough, Lewisham will continue to reach out and find ways of working more closely with our friends in Berlin."
Reinhard Naumann, Mayor of Charlottenburg-Wilmersdorf, said: "Both our boroughs stand for a lively welcoming culture in a special way. Our diversity strengthens us and the values that we vouch for. The agreed immersion of cooperation and the municipal exchange of experiences will be a profit for both sides."
Find more information about Lewisham's work to become a Borough of Sanctuary.
Published on: 21/05/2021