Lewisham Council first in the country to take part in groundbreaking pilot to help people experiencing homelessness
Lewisham Council has today announced it is taking part in ground breaking pilot to help people experiencing homelessness to access support services through an innovative new approach.
Scam alert

We are aware that a number of residents have received a text messages that says it is from Lewisham Crime Enforcement, telling the person they have outstanding fines and to click on a link and pay immediately.

THIS IS A SCAM.

If you receive a text message, please ignore and report to www.actionfraud.police.uk.
The council has been working closely with Proxy Address for a number a months to develop this service - which aims to fix the catch 22 of losing a permanent address by allowing those facing homelessness to "borrow" an existing address so they can access vital services.
The termination of the governments furlough scheme coupled with the impact COVID 19 is having on people's lives means that we are likely to see an increase in homelessness over the next six months.
Losing your home means losing your address. But in 21st century Britain, an address is not just a location – it's a de facto form of ID; without one, people experiencing homelessness can be prevented from accessing vital services like maintaining or opening a bank account, applying for a job or a driving license, accessing benefits, receiving post, or even registering with a GP.
Proxy Address works by using the duplicated address details of existing homes to provide those facing homelessness with a consistent, secure, and free address which they can use to access the support they need.
ProxyAddresses are provided with explicit consent from property owners - including councils, housing associations, housing developers, and private donations, and some of the 225,000 long-term vacant homes in England - without impacting the original property's credit score, value, or postal deliveries.
Just like the 800,000 letters sent in the UK each year to Santa's Grotto in Reindeerland - which ultimately go to a sorting office in Belfast – for post, the ProxyAddress serves only as a routing instruction rather than a final destination. Mail addressed to a person at their ProxyAddress can be redirected to a collection point of their choosing, ensuring their details - and ability to access support - stay the same throughout the recovery journey, no matter how often they move.
Damien Egan, Mayor of Lewisham said, 'I'm really proud that Lewisham will be the first local authority to trial this new service which will make it much simpler for homeless people to access the services they need to get back on their feet. With the government having ended their ban on evictions, the pilot couldn't be happening at a more important time and I'm pleased that Lewisham will be leading the way on tackling homelessness and inequality.'
Tom Copley, Deputy Mayor of London for Housing and Residential Development said, 'I am proud to support the pilot of this innovative and potentially life-changing project. For people who have been made homeless, the serious problems that arise from the loss of a home address can be a crippling blow to their chances to rebuilding their lives. The team behind ProxyAddress have come up with an elegant and creative solution to a problem many would see as insurmountable and I look forward to seeing a wider roll-out in the near future.'
Gillean Dooney, Managing Director at Barclays said, ''We know that people experiencing homelessness struggle with financial exclusion when they are without the necessary identification documents required to open a bank account. We are delighted to be working with ProxyAddress to try and tackle this issue and find a solution which provides access to financial services to people facing homelessness. Across Barclays we are dedicated to supporting people in the communities where we live and work and providing access to essential banking services is a key part of this commitment.'
Chris Hancock, Head of Best Practice at Crisis said, 'In the last few months we have seen how the need for a settled home has never been more important. Whilst a lot has been achieved in getting people indoors temporarily, we have still some way to go. Without a secure address there is little chance for someone to make and sustain the connections they need. If we are to give people the best opportunity to find a home, or a job, they need a reliable point of contact, and that is why Crisis are very happy to support ProxyAddress and work together in the future for the benefit of our members.'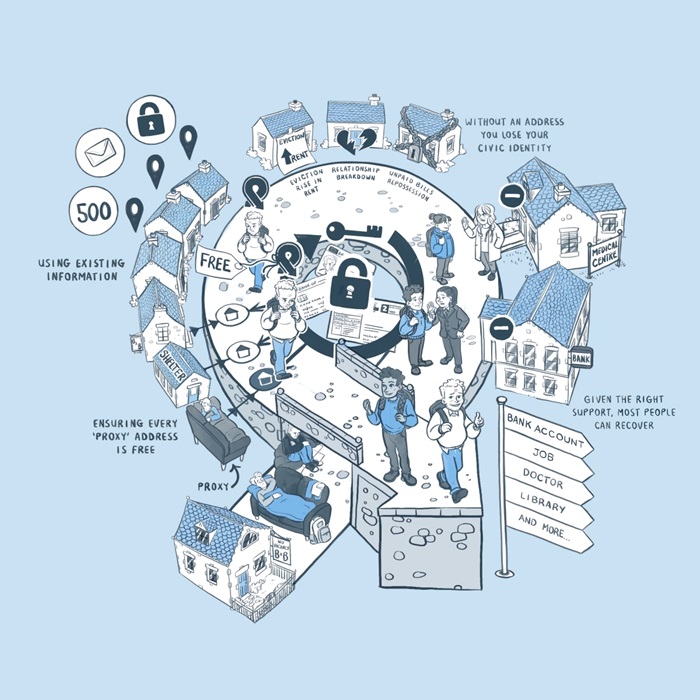 Published on: 22/10/2020