Deptford roads reprioritised to create healthier neighbourhoods
The Council's commitment to a Greener Lewisham is taking a further step forward with delivery of measures as part of the Deptford Parks Liveable Neighbourhood (DPLN) project.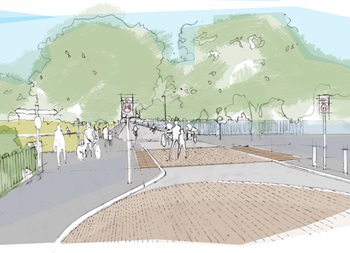 The DPLN will transform some roads in North Deptford into areas where people can choose to walk and cycle through a series of healthy street interventions. The project aims to improve air quality, reduce childhood obesity, tackle deprivation and foster community cohesion.
Through promoting active travel, providing safe spaces for children to play and supporting local businesses, the developments are part of the Council's objective to transition to net zero carbon by 2030.
Experimental closures of Scawen Road and Prince Street currently prevent through traffic on a temporary basis. Following public consultations which have generated up to 85% of support from residents, the Council intends to make these closures permanent, reprioritising the streets for pedestrians and cyclists. This will have benefits for pupils at Sir Francis Drake Primary School, improving safety for children and families travelling to and from school, and for the Dog & Bell pub, enabling them to use space in front of the pub to serve more customers.
Woodpecker Walk hosts a strategic cycling corridor linking to Transport for London's new Cycleway 4, a segregated cycle route through Deptford, which connects Tower Bridge and Greenwich and will be completed in Spring 2022. Resurfacing of the pedestrian and cycle path along Woodpecker Walk is scheduled to be completed by mid–August 2021.
In addition, works to create a pedestrian and cycle zone on Rolt Street (artist's impression attached) are currently underway, with completion due in early August 2021. This will see part of the street next to Folkestone Gardens closed to motor vehicles (except emergency services) so that pedestrians and cyclists can safely travel. The proposals have gone through extensive community engagement and consultation, and will be introduced on an experimental basis for a minimum of six months. During this period, the Council will be inviting residents to give feedback via the Commonplace website: https://deptfordparksproposals.commonplace.is/
Designing the project has been a 'bottom-up' process involving multiple local stakeholders, with on the ground community engagement. The measures outlined above all had at least 65% support in the consultation on proposals.
Damien Egan, Mayor of Lewisham, said "Thank you to everyone who has worked so hard to bring forward these improvements, especially to our local residents and comm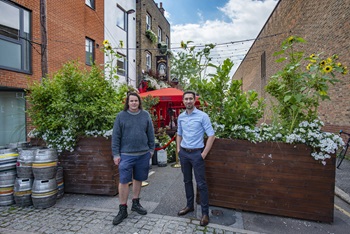 unity groups who have been at the heart of this project. Not only do the streets look great, they help people walk and cycle more safely and they help clean our air too."
Séamus O'Neill, landlord of The Dog & Bell on Prince Street (pictured with the Mayor in attached photo), said "The closure of Prince Street has been a great success. The street has been transformed from a dangerous rat-run to a peaceful safe oasis here in the heart of old Deptford. Pedestrians, cyclists and patrons of the pub have all benefitted from the closure of the street. I cannot praise Lewisham Council enough for their continued support allowing for a safe area outside for customers to enjoy. The news that they Council intends to make this closure permanent means a lot to the pub and the local community in what has been a very challenging period over the last 18 months."
Cllr Sophie McGeevor, Cabinet Member for Environment and Transport, said "I am delighted that we are working towards permanent measures in Deptford that will make it safer for people to walk and cycle. Not only will they help to improve air quality and make it easier to walk and cycle, it will also have knock-on benefits for the safety of children at Sir Francis Drake Primary School and for a green jobs recovery for the Dog & Bell pub."
Published on: 20/07/2021