On-site construction starts on Excalibur Road, with 102 new homes set to be built
Cabinet Member for Housing and Planning, Cllr Paul Bell, celebrated the beginning of Phase Three of the Excalibur Estate development on a visit with local Councillors Kim Powell and Mark Ingleby.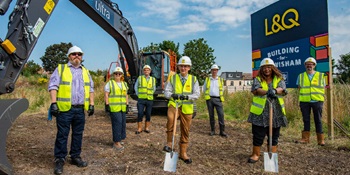 Work has now begun to deliver 102 new homes, in partnership with L&Q, supported by funding from the Mayor of London and the Greater London Authority.
The Excalibur Estate development involves a large-scale estate regeneration across five phases. The original estate comprised prefabricated, post-war bungalows that were no longer fit for purpose. Working with delivery partner L&Q, Phases One and Two of the development have now been completed, delivering 57 new homes. Work on Phase Three has now just begun — this will deliver the next 102 new homes, including 36 social homes for local residents. The new homes are due to be completed by the end of 2023.
Excalibur Estate Phase Three forms part of the Council's Building for Lewisham programme, delivering new social homes for families in Lewisham. With 10,000 households on the Council's housing waiting list, these new homes will help families move out of temporary accommodation and into a home of their own. The programme is being delivered by the Council's housing company Lewisham Homes and a number of partner organisations, including L&Q.
A map of all of Lewisham Council's planned, under construction and completed developments is available on the Building for Lewisham website.

Cllr Paul Bell, Cabinet Member for Housing and Planning, Lewisham Council, said:
"I am very pleased to see work begin on this project as we continue taking action to tackle the housing crisis.
The 36 new social homes currently under construction will make a transformative difference to the lives of Lewisham families and help increase the number of social homes in the borough."
Published on: 20/07/2021