Coaching, volunteering and employment opportunities in swimming
There are many volunteering and recruitment opportunities in swimming.
Volunteering for Saxon Crown Swimming Club
Saxon Crown Swimming Club is run almost entirely by volunteers and is always looking to recruit new volunteers.
If any swimmer, parent or existing volunteer has any skills or experience they think may be of benefit to the club, please contact the Club Secretary.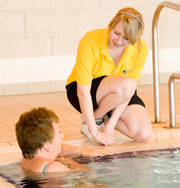 The club offers many incentives to volunteers including:
free CRB or equivalent background checks (required).
free ASA and free annual club membership for any non-swimming parent/carer of existing club swimmer (required).
free or discounted training in child welfare/protection, team management and ASA/British Swimming officials' qualifications (time keepers, judge level 1, level 2 and level 2S).
Becoming an Amateur Swimming Association (ASA) swimming instructor
Teaching swimming is an active and challenging role and new teachers are often needed as demand for lessons increases.
Teaching assistants can earn up to £10 per hour with a level 1 qualification and more if they become a level 2 teacher or coach.
The ASA is a leading provider of aquatic qualifications in England. Gaining these qualifications can cost up to £400 but there are bursaries and grants available from the ASA to help.
Find out more about becoming a qualified swimming instructor on the ASA website.
Working in one of our leisure centres
There are many different opportunities in our leisure centres. Recruitment is managed by the leisure providers.
All offer training opportunities and are equal opportunities employers.
Jobs and careers with 1Life who manage
Downham Health & Leisure Centre.
Published on: 25/08/2020