Devonshire Road Nature Reserve
Find out more about the Devonshire Road Nature Reserve. 
The nature reserve forms part of the Forest Hill to New Cross Gate railway cutting. This is a site of Metropolitan importance for nature conservation as it contains probably the finest example of a rail-side wildlife habitat in London. It is four kilometres long and over 200 metres wide at its widest points.
Opening times
The nature reserve is open on the last Sunday of every month, 2–5pm.
Visit the Devonshire Road Nature Reserve website to find out about events in the reserve.
The railway cutting
There are three nature reserves within the railway cutting. Two are managed by us, and one is managed by London Wildlife Trust. Licencing and security rules mean that public access can only be allowed under controlled conditions. All three sites are locked unless staff or volunteers are there to open them.
History
The oldest of the three is Devonshire Road nature reserve, on the western side of the railway beside Devonshire Road in Forest Hill.
This became our second nature reserve in 1981, in response to the concern of local residents over tree felling on the site by British Rail. We took up the cause, and British Rail agreed to lease the land to us as an educational nature reserve.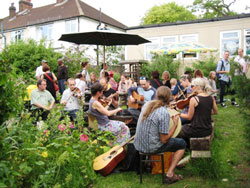 Visitor centre
The visitor centre is in a portakabin on the site of 170 Devonshire Road. This site is owned by us and was originally vacant since being bombed in the Second World War.
A management committee oversees the management of the site.
Garden
The area behind the visitor centre is being landscaped as a garden. This will be used for demonstrations of organic and wildlife gardening, and will provide a pleasant place for visitors.
It will be particularly suitable for those unable to access the trails in the nature reserve.
There are also some low-disturbance ponds which are used by school groups for pond dipping. There are lots of frogs and smooth newts to be found here, and toads have been introduced as spawn.
Contact
Published on: 24/11/2020