Dacres Wood Nature Reserve
Find out about Dacres Wood Nature Reserve.
Dacres Wood is a small nature reserve beside the railway line between Forest Hill and Sydenham.

The ponds and wetlands are of major nature conservation interests. They come from the old Croydon Canal.
History
The direct route taken by the railway left a large number of the old loops of the canal as ox-bows, and in time most of these were drained, then filled in and built over.
By an accident of history, the loop on this site, running to the east of the railway, survived. It became the garden of a Victorian house called Irongates; this was one of a pair, the other called Thriffwood. By 1895, the grounds of both houses were wooded, with trees separating the two gardens.
Bacon's Atlas of 1904 quite clearly shows the loop of the old canal some 300 metres in length, although it is not clear whether or not it held water.
Thriffwood was demolished by 1952 and Irongates was replaced by a block of flats, Homefield House, in 1962. The former garden of Irongates came into the ownership of the Greater London Council and was subsequently passed to us.
Originally intended for housing, it was taken over by our parks team in 1984, and became a nature reserve in 1989.
Habitat
The adjacent railway cutting is vegetated with young oak and sycamore woodland, bramble scrub and rough grassland. It complements the habitats in the nature reserve, and is therefore included in the Site of Borough Importance.
The site is locked for health and safety reasons but is often used by both schools and conservation volunteer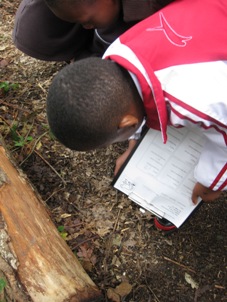 There is also a Friends Group for the site who help the Nature Conservation team with the management and maintenance of the site.
If you would like to get involved please contact us.
Contact
Published on: 26/03/2023