Burnt Ash Pond
Find out about Burnt Ash Pond.
Burnt Ash Pond is perhaps the finest pond in the borough from an ecological viewpoint, supporting a good variety of aquatic plants and animals.
With its pretty fringing trees and colourful iris beds, it is much loved by local residents.
The pond is open April-November on the first Sunday of the month, 11am-12 noon.
Burnt Ash takes its name from the fact that local woods are coppiced for charcoal, which is sold in London.
Burnt Ash Pond is thought to be an old farm pond. It is managed by our nature conservation section, with input from a management committee of local residents and environment groups.
Access and education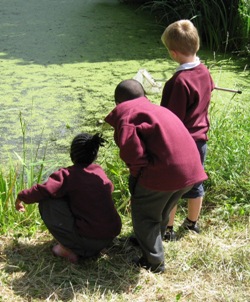 The pond is fenced; views of the site can be obtained over the fence where the hedge is not too tall and thick.
The pond is opened by local volunteers during the times above. Outside of these times access can be arranged in advance with the nature conservation team. It is also very popular with local schools.
We have recognised the ecological and educational value of Burnt Ash Pond and have declared it a Local Nature Reserve.
The site contains educational resources that are available to local schools for hire. If you are interested please contact the Nature Conservation Team via the email below. Worksheets are available from the team's blog.
History
19th century
The pond first appeared on the Ordnance Survey 6in map of 1870, when it may have been associated with a brickworks north of Burnt Ash Farm.
By the time of the 1908 Ordnance Survey map, it was in the back garden of one of the large houses along Burnt Ash Hill, which were built in the 1870s.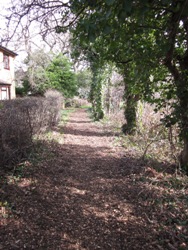 20th century
Local residents remember catching newts and sticklebacks in the pond in the 1940s, but by 1980 it was seriously neglected, and full of scrap metal and other rubbish
The original plans for redevelopment of this area included filling-in the pond, but the pond was spared following a campaign led by the then newly-formed Lewisham Group of the London Wildlife Trust. It was the Group's first campaign.
When we built the houses of Melrose Close in 1983-84, the pond was cleared out and restored to form an attractive centrepiece for the estate. Since then, it has been managed by us as an educational nature reserve.
Today
Recent dry summers have led to the pond more or less drying up at times. A standpipe has therefore been installed for topping-up when the water level gets dangerously low.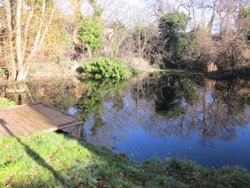 The large willows on the edge of the pond are coppiced regularly to reduce their water uptake.
Contact
Published on: 27/07/2020