Events of LGBT+ interest
We are committed to embracing the diversity of all our residents and there are many events throughout the year to celebrate the contributions that LGBT+ people have made to all aspects of public life.
Pride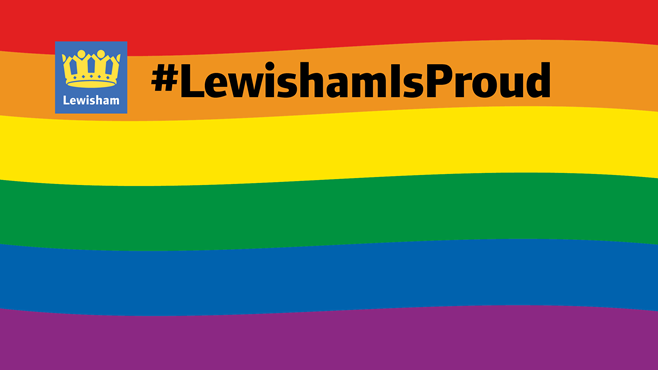 This June is Pride month. Lewisham is proud to celebrate its LGBT+ communities.
Pride in London has announced the postponement of the Parade and associated events that were due to take place, with a new date scheduled for 11 September 2021. Even though we aren't able to meet in person this June, we encourage you to celebrate with our Guide to Pride at home.
Keep an eye out as we'll be updating this page with more special features throughout Pride month!
A Pride party playlist
We've collated a playlist of our favourite party classics to help your celebrations.
A Pride reading list
Our Libraries team have created a celebratory reading list for adults, teenagers and children for you to enjoy at home. Find out more on our website and start reading today.
The British Museum: Desire, Love and Identity
Explore LGBT+ histories through the theme of desire, love and identify. The British Museum have collated online stories, blog posts and videos and an audio trail that highlights 15 key objects from the collection.
PinkNews: Pride for All 2021
PinkNews launches its online Pride for All celebrations in aid of the Kaleidoscope Trust – a UK-based charity working to uphold the human rights of LGBT+ people across the world.
LGBT+ events and resources
Find out about the latest LGBT+ events and resources in Lewisham and London.
Lewisham LGBT forum
Find out about local groups in your area from Lewisham's LGBT forum.
Pride in London
A directory of queer events for the queer community from Pride in London.
The Metro Charity
The Metro Charity provides health, community and youth services across London and the South East.
Event themes throughout the year
LGBT+ history month
LGBT+ history month takes place every year in February. It celebrates the lives and achievements of the LGBT+ community. It is also intended to raise awareness of, and combat prejudice against the LGBT+ community.
See what events are happening as part of LGBT+ history month.
Visit the official LGBT+ History Month website.
LGBTQ+ Adoption and Fostering Week
Each spring, agencies across the UK hold events specifically for lesbian, gay, bisexual and transgender prospective parents, as part of LGBTQ+ Adoption and Fostering Week.
LGBT+ Adoption and Fostering Week
International Day against Homophobia and Transphobia (IDAHO)
IDAHO takes place on 17 May and is a worldwide celebration of sexual and gender diversities. It highlights that violence and discrimination against LGBTQ+ people must be tackled openly.
International Day against Homophobia and Transphobia
Anti-bullying week
Taking place in November Anti-bullying week is an opportunity to raise awareness of homophobia especially amongst children and young people.