Working together for a Cleaner Lewisham
The Cleaner Lewisham campaign officially launched this week when representatives from the Council, local community groups and businesses came together for a litter-picking event in Coulgate Street, Brockley.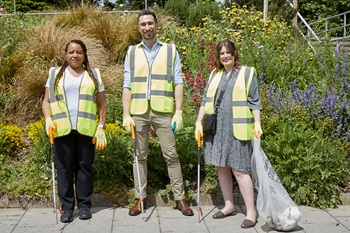 A key part of the campaign is hosting community events like the one in Brockley to encourage residents and businesses to keep their local areas clean. Linking closely with the Great British Spring Clean this year, a number of litter picks have been arranged over the fortnight this year. Many more are being planned over the rest of the summer and beyond.
Speaking from Brockley on Thursday 3 June
Councillor Sophie McGeevor, Cabinet Member for Environment and Transport said:
"This has been a superb event, bringing together active local businesses and community groups to support each other and taking pride in our local area and the environment in which we all live in.
"Going forward, we need more residents and businesses to come along and lend a hand. We're inviting businesses and community groups to pledge to keep their local area tidy and maintain a Cleaner Lewisham."
Businesses in Brockley signed up to the Cleaner Lewisham pledge, including Parlez, Browns of Brockley, Nu Spice, Salthouse Bottles, Costcutter, and the Brockley Barge, promising to do their bit to keep the area clean.
Councillor Sophie McGeevor was joined on the day by the Mayor of Lewisham, Damien Egan, who added:
"Events like this one always remind me of what a committed and spirited community we live in. I'm really grateful to everyone who took the time today to come along and play a part in creating a much nicer space for everyone to use."
Councillors were also joined by volunteers from local community groups including Ravensbourne Residents Association, Slim Your Bin, Climate Action Lewisham, and Brockley Cross Action Group. Brockley Cross Action Group said:
"It's really important that we all make an effort to keep our local area clean. We've created and are improving the Brockley Station Community Garden, planting a lot of pollinator friendly plants and regularly do litter picks here. This week we replanted the planters on Coulgate Street and we will continue to maintain these moving forward. Having the road closed to traffic over the past year has created a really relaxed environment while we've been working on the Garden and has helped to foster a sense of community."
The Council are encouraging residents to make better use of the waste services on offer, such as low-price bulky waste collections and free mattress collections, to try to reduce fly-tipping in the borough.
More information about upcoming litter-picking events and waste services can be found on our website. If you have an idea for a litter pick or want to know about one of the litter picks happening near you, contact us at cleanerlewisham@lewisham.gov.uk
Published on: 04/06/2021