Broadway in Catford set for grand reopening following major refurbishment
Broadway is set to throw its doors wide open, bringing an exciting mix of live performances to Catford from Sunday 12 February while also providing a home for community projects and new writing.
The theatre closed in 2020 due to Covid-19 restrictions. The Council used this time to invest in key improvements, ensuring the Grade II* listed building is future proofed to meet the needs of a twenty-first century audience.
The iconic venue celebrated its 90th birthday last summer. Its restoration was carried out by Rooff Construction and includes upgraded seating; a more contemporary bar area; improved access and facilities for those with restricted mobility; and new digital signage at the front of the building.
Comedy remains a cornerstone of the theatre's programme. Tickets are already on sale for the first shows to take to the newly renovated stage – including a Valentine's Comedy Special on Sunday 12 February and the award-winning Scummy Mummies who will be treading the boards later the same month.
The Broadway is to play a central role in the legacy of Lewisham's year as London Borough of Culture 2022 – providing an inclusive creative space to bring people of all ages and backgrounds together. It is partnering with new Associate Artists to help fulfil that vision – particularly championing Black and Global Majority theatre plus those who offer young people opportunities.
To that end, it is a great pleasure to announce Nouveau Riche as Broadway's newest Associate Artists who will be bringing high quality, original theatre to Catford. The multi award-winning theatre collective is fresh from a sell-out run of For Black Boys Who Consider Suicide When The Hue Gets Too Heavy at The Royal Court and will use the Studio space to nurture emerging talent and produce their own ground-breaking work.
Residents are encouraged to support the theatre's vital work by buying tickets to shows, signing up to the mailing list, or becoming a 'Friend' of the theatre. Memberships start at only £3.50 per month entitling cardholders to benefits such as discounts on drinks, priority booking and the chance to meet cast members.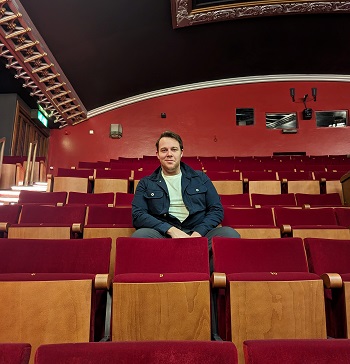 Cllr James J Walsh – Cabinet Member for Culture – said:
"We're at the beginning of a new chapter and fresh new era for Broadway and we cannot wait to welcome people back.
"The theatre has such a rich history and has been the go-to venue for the best live entertainment in south east London for the past 90 years. The refurbishment was about safeguarding that history and also its future, which are at the heart of our borough's cultural offering. Our investment ensures that new generations benefit from the institution and opportunity it brings.
"Our improvements will deliver a more inclusive and enjoyable theatre experience for both our fantastic audiences and visiting productions. The theatre will be a place where people from all communities feel welcome to share the joys of live performance, culture and arts.
"Broadway however needs your support. You can book tickets for the shows, become a member, or join our free mailing list. This investment is just the start, the second act is always better and there's more exciting news to come, so watch this space."
Ryan Calais Cameron – Artistic Director, Nouveau Riche – said:
"I'm from Catford and grew up with Broadway on my doorstep. This is like a homecoming for me. I've always loved theatre but it didn't seem like a career option for someone like me. There was a lack of representation back then. So to have this local theatre championing work from Black artists was incredible – even if I couldn't always afford to see the shows myself.
"I've worked hard and I'm now in the fortunate position to travel the world with my theatre company, Nouveau Riche. We share stories that are rooted in my local community but still resonate with national and international audiences.
"We're excited to be Broadway's Associate Artists. It's not something we take lightly. What we want to do is inspire a whole new generation of theatre artists and make the artform accessible to a whole new audience. My younger self would be so proud!"
We will be offering guided backstage tours of the newly revamped theatre from February 2023 for the press and local community groups. Please get in touch to register your interest and we'll come back to you to confirm dates info@broadwaytheatre.org.uk.
To buy tickets and memberships or for more information, please visit broadwaytheatre.org.uk. Alternatively follow Broadway on Twitter, Facebook and Instagram for all the latest news.
Published on: 11/01/2023