Memorial unveiled in honour of leading anti-racism campaigner Asquith Gibbes MBE
A memorial to honour the lasting legacy of Asquith Gibbes MBE has been unveiled at Lewisham Police Station. The special ceremony took place on 27 June 2019.
In the presence of his widow Norma, son Asquith, daughter Carla, family members, friends and colleagues, tributes were paid to Asquith by Damien Egan, Mayor of Lewisham, Borough Commander Simon Dobinson, and Sir Steve Bullock amongst others.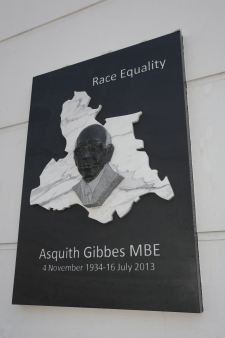 Asquith's achievements
Asquith moved to London in the late 1950s from Grenada and worked tirelessly fighting inequality in Lewisham. He founded the Lewisham Equality Council in 1981 and worked closely with the Council and the Metropolitan Police to create change for Lewisham's black residents, offer support and be a clear and commanding voice for those who did not feel they had one.
His other notable achievements included leading the group that created the 'Kick Racism out of Football' campaign and starting the 'Student Voice' empowerment programme at Lewisham College that has since been adopted nationally.
Asquith was also adviser to the Association of Chief Police Officers and the Home Office on Stop and Search and was the Chair of Lewisham's Police Independent Advisory Panel. His support to the families of the victims of the New Cross fire during the inquest was described as immeasurable.
Asquith was awarded an MBE in 2009 in recognition of 30 years of service to the police, schools and the community on race relations. He died in 2013 following a long illness.
The memorial
The Gibbes family worked with us to create a public art memorial in recognition of the huge impact Asquith made in Lewisham. Local artists were invited to submit their ideas and the successful bid came from Simon Smith Stone Carving based in New Cross.
Damien Egan, Mayor of Lewisham, said: 'Asquith was one of the most influential figures in Lewisham's recent history and was a real Lewisham legend. He has left an indelible mark on the borough which is widely recognised for its inclusivity, celebration of diversity and strong community cohesion. We owe Asquith so much and it is only right that his impact is marked for current and future generations to see.'
Borough Police Commander Simon Dobinson added: 'Lewisham Police is honoured and humbled to be home to this important memorial.'
Published on: 01/07/2019