Lewisham business community celebrated at awards ceremony
15 winners announced at the Mayor of Lewisham Business Awards 2022.
There was a party atmosphere at Catford Library as the winners of the 13th annual Mayor of Lewisham Business Awards were revealed at a special ceremony.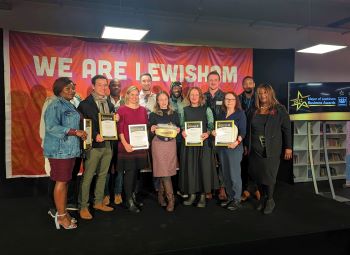 The Mayor was joined at the event, held on Wednesday 9 November, by Councillors and industry representatives – including Federation of Small Businesses – alongside the local business community.
15 accolades were given out, recognising the outstanding achievements and contributions of the fantastic local businesses who are leading the borough's economic recovery from COVID-19, as well as those that are giving back to the community.
This year, for the first time ever, residents decided the overall winners – casting almost 6,000 votes across 14 categories. The 15th category – the Lewisham Legacy Award – was decided by a panel of judges and was scooped by local cultural gem, Rivoli Ballroom.
Damien Egan, Mayor of Lewisham, said:
"Thank you to everyone who voted in this years' business awards. We received over 6,000 votes which just goes to show how valued our local, independent businesses are. We are so lucky, in Lewisham, not just to have the big chain stores dominating our high streets but a real mix of exciting businesses that reflect our borough.
"Our local, independent, family-run businesses are the jewel in Lewisham's crown - supporting them has never been more important!"
Cllr Kim Powell, Cabinet Member for Businesses, Jobs and Skills, said:
"What a great way to celebrate the fantastic achievements of our independent businesses. They contribute so much to life in Lewisham. Not only do they boost the local economy and create jobs for local people, they also go above and beyond to give back to the community.'
"A huge well done to this year's winners and runners-ups who represent the very best of the borough - they should all be very proud indeed."
Victoria Pinnington, Director of Communications and Income Generation for the Horniman Museum and Gardens, says:
"We're delighted to be Lewisham's Best Visitor Attraction, made all the more special because it's voted for by the residents of our wonderful borough. Thank you to Mayor Damien Egan and his team for shining a spotlight on the rich cultural life of Lewisham, and thank you to everyone who voted for the Horniman."
We can reveal the Mayor of Lewisham Business Awards 2022 winners are:
Best Visitor Attraction
A local family-friendly, free museum and gardens which recently won Art Fund Museum of the Year 2022.
Best Green Business
SE London's first organic zero-waste shop, selling food, groceries and household products without packaging.
Best Online Business
Founded in 2020, IFE brings quality dried food to busy families and individuals who are time conscious and appreciate fine dining at its simplest.
Best Community Contribution
A voluntary project set up in response to the Covid-19 pandemic. We collect and organise donations of all kinds, which we then share with those facing hardship.
Best New Business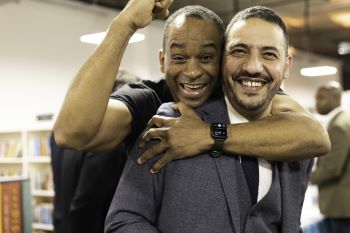 Artisan bakery selling to retail and wholesale customers. Product range includes sourdough bread, pastries, pasties, quiches, pies and desserts.
Best in Creative Sector
A theatre company which nurtures and inspires young people, helping them to develop enduring and transferable skills that lead to increased life chances and long term well-being.
Best Independent High Street Business
A florist and café all in one. Sells fresh and dried flowers, house plants, garden plants, pots and hangers. The surroundings are best enjoyed whilst having a cup of tea and slice of cake.
Best Café
Le Delice is known for amazing Boulangerie and French pastries.
Best Restaurant
Independent restaurant using fresh seasonal produce in an eclectic globally inspired menu. A carefully curated wine list is available as well as cocktails and homemade drinks.
Best Bar or Pub
Hither Green's little local serving the finest beers, wines and cocktails.
Best Hair and Beauty
Good quality haircuts from under £10.
Best Independent Food Retailer
Traditional Turkish, Cypriot and Iranian bread, Turkish pastries, savouries, food and sweets all week.
Best Tradesperson
Offers shoe repairs, key cutting and engraving.
Best Market
Lewisham market began in 1906 and is today one of a handful of six-day markets in London. Situated in the centre of Lewisham, in front of Lewisham Shopping Centre, the market is within easy reach of transport links. Selling a wide range of goods.
Lewisham Legacy Award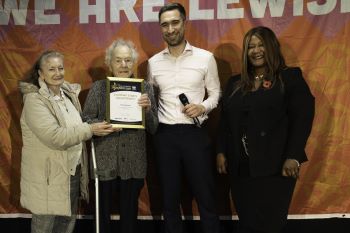 The Rivoli Ballroom is one of the last remaining intact 1950's style ballroom left in London. Designed by Henley Attwater with a simple barrel-vaulted auditorium it first opened in July 1913.
The Mayor of Lewisham Business Awards 2022 are a yearly opportunity to celebrate our fantastic local businesses and the outstanding contribution they make to the borough. This year's sponsors were Balfour Beatty, Elkins Construction, Peabody Housing Association, Ardmore, Ixion Holdings, Sasson & Co. Accountants, L&Q, Numidia and Precious Sprouts.
Published on: 10/11/2022