Improving walking and cycling in our borough
Building on the increase of walking and cycling seen during the COVID-19 pandemic, the council is introducing new temporary measures next week to make it safer and easier for pedestrians and cyclists as they travel around the borough. The first of these measures will start to go into place on Monday 15 June.
Councillor McGeevor, Cabinet member for Environment and Transport said:
"At the start of 2020, nobody would have thought that Lewisham's streets would ever be empty, but the impact of COVID-19 has led to fewer vehicular journeys and many people walking and cycling for local journeys. Vehicles are starting to return to our streets, but we are determined to provide a safe environment for those walking and cycling trips and to change our travel habits, starting with measures to make walking and cycling more appealing to everyone.
"Informed by local people, including the stakeholder groups, Lewisham Pedestrians and Lewisham Cyclists, these initiatives are consistent with years of thought into how to create a sustainable transformation of our streets. Now we are ready to roll out our first measures, and are planning more for the future. We want to see how effective they are in creating much needed safe space for pedestrians and cyclists for social distancing and to help everyone get around as lockdown restrictions are eased.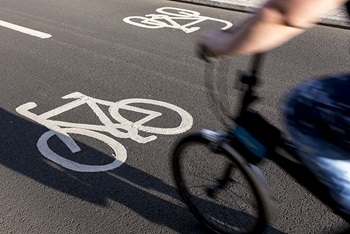 "In a borough with high levels of obesity, ten minutes of walking or cycling twice a day would make a huge contribution to good health, reducing the risk of diabetes and heart disease, both of which are risk factors for COVID-19. It would also help keep our air quality higher, which has happened during the lockdown."
To create more space in busy public places (for example, on high streets, local shopping areas and near park entrances), the use of temporary barriers and parking suspensions will be used to extend space for pedestrians. This will begin to be implemented on Monday 15 and Tuesday 16 June at:
Dartmouth Road

Coulgate Street

Hither Green Lane

Foxberry Road

Sangley Road

Staplehurst Road

Wells Park Road.
To create safer and quieter residential streets to support safer walking and cycling, 'modal filters' or the installation of planters and demountable bollards will begin installation on Monday 15 and Tuesday 16 June. Temporary barriers will be installed between the planters to start with, with these replaced with demountable bollards from Tuesday 23 June. Advanced warning signage will also be in place.
Scawen Road

George Lane

Kitto Road

Glenbow Road

South Row

Bishopsthorpe Rd

Silverdale.
Further phases are currently in development and further information will be available in due course.
47 per cent of Lewisham households do not own a car and already rely on walking, cycling or public transport to get around. Before COVID-19, 34 per cent of trips in the borough were by public transport, 30 per cent on foot and just 2 per cent by bicycle. Across the borough there are over 250,000 trips that could be cycled, but at the moment only around 7 per cent of these are made on bicycle.
With 81 per cent of Londoners able to ride a bicycle, there are clearly other factors currently discouraging people to consider cycling regularly. One of the reasons people choose not to cycle is the physical and social environment around them which can create barriers for women, BAME people, older people and disabled people.
Transport for London (TfL) has indicated that if all car-owning households switched their usual public transport journeys to car, some boroughs would see a near doubling of car journeys, which would cause considerable congestion on Lewisham's streets.
Published on: 12/06/2020