"I love it" - First residents move into new social homes in New Cross
The Mayor of Lewisham, Damien Egan, visited new social homes in the Amersham Vale development last week with Cllr Paul Bell, Cabinet Member for Housing and Planning, and local Councillors.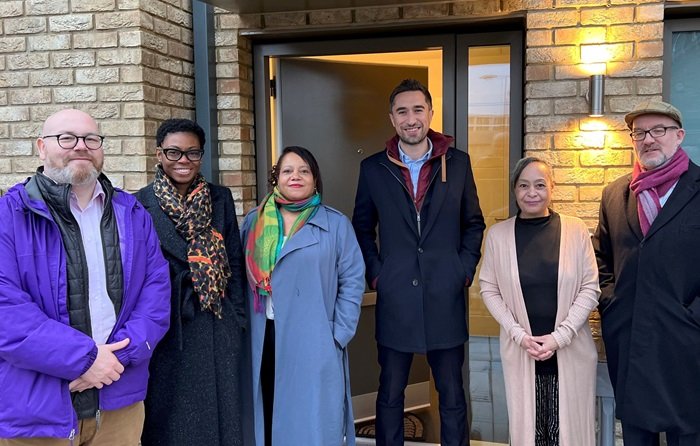 Diann Gerson, who moved in two weeks ago, showed the Mayor and Councillors around her new home. The group were joined by representatives from developers Peabody Trust, Sherrygreen Homes and contractor Mulalley.
The scheme at Amersham Vale forms part of the Deptford Southern Housing project, along with the nearby Frankham Street development. In total, this project will deliver 141 new social homes for families on the Council's housing waiting list, in partnership with Peabody Trust.
Diann had previously lived on Reginald Road since the 1980s. While initially opposed to plans to redevelop the site as part of the Frankham Street scheme, Diann later decided to move into one of the new social homes at the linked Amersham Vale site, completing her move last month. She thanked the Mayor and Councillors for ensuring that existing Council tenants on Reginald Road had first priority for the new social homes built.
The 24 new social homes at Amersham Vale are part of the Council's Building for Lewisham programme, which is delivering new social homes across the borough and helping to tackle the housing crisis. The majority of the new social homes at Amersham Vale are large, family-sized homes, which are in particularly high-demand in Lewisham.
As well as the 120 homes that are being delivered through the Amersham Vale scheme, the development has also provided a new park for the local community – Charlottenburg Park – which opened in 2016.
Damien Egan, Mayor of Lewisham, said:
"It was lovely to meet Diann and see her settling into her new home so well. 141 new social homes will make a huge difference in our community. I hope Diann will be the first of many Lewisham residents to enjoy the new homes being delivered through these schemes and I wish everyone living there many years of happy memories."
Diann Gerson, speaking from her new home, said:
"Initially I was opposed to the idea [of moving] and went to lots of Council meetings about the Tidemill [Frankham Street] scheme. I was later advised that there were properties available here [Amersham Vale] instead if I was interested. I got a call saying that a place was available to look at and came and fell in love with it.
"I love it – I like the peace, the quiet, the space. It's just right for me, just the right size. I've got a garden and didn't have a garden before. I'm going to get a little greenhouse for the garden because all my plants used to die on the balcony!"
Angela Wood, Deputy Executive Director Development and Sales for Peabody, said:
"We are pleased to see residents and families settling into their new homes at Amersham Vale. This is an important milestone in our partnership with Lewisham Council and our developer partner Sherrygreen Homes to provide much-needed affordable housing for local people.
"As well as creating jobs and opportunities for the area, the new open spaces and public park we have provided through this project will benefit the community for many years to come."
Published on: 01/02/2022