Catford Food Market has moved
The monthly food market has made its exciting move to the brand new Catford Mews.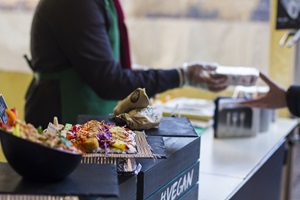 The Catford Food Market, open from 10am–4pm on the last Sunday of the month, has been showcasing the local talents of food traders and artisans from across the borough since launching on Catford Broadway in 2017. To date, it has clocked up over 120 hours of trading, connecting people from Catford and beyond with international street food and live music.
Half of the traders live in Catford, making for a carbon friendly initiative as there is a decreased need for transportation of goods in and out of the market area.
On Sunday 29 September 2019, on the heels of the opening of the new cinema Catford Mews, the food market made its big move into Catford shopping centre. This move has filled the town centre with new businesses in the form of street food traders, including Brett & Bailey, Wilde Jasmine, Pat & Pinky's and Route 66, and with five of the original traders graduating into the Catford Mews.
With plans to grow its initiative in the New Year, additional traders will move in, as well a pop-up children's hairdresser and the public launch of local radio station Catford FM.
The market is also home to Catford Cornucopia, Catford's very own gift shop who donate all profits to two charities – The Sickle Cell Society and The 999 Club, the Deptford-based homeless charity and the Mayor of Lewisham's chosen charity.
The regeneration of Catford centre is quickly putting the borough on the map as a community hub of local creativity and culture.
Other major projects that we're supporting include our bid to win London Borough of Culture 2021 and the Back the Bakerloo Line campaign, which, if successful, would connect the borough to the Underground for the first time in its history and unlock significant new homes and jobs for residents.
Team Catford, who lead on community engagement and place-making, run the market and are on hand to discuss some of the latest ideas around the framework plan that will guide the regeneration of Catford town centre over the decades to come.
Damien Egan, Mayor of Lewisham said: 'Catford Food Market's success and its big move to Catford Mews shows just how diverse and dynamic our community is. Lewisham is London's capital for micro and independent businesses, and as Catford grows it's important we support our unique small and independent shops.'
Trader of the month Pat and Pinky's (pictured, right) said: 'What I like most about the Catford Food Market is the diverse clientele. We're fairly new to the market but everyone we've met has been incredibly supportive and helpful. The market equipment is set up for traders so you just turn up and trade, which saves a lot of time, hassle and money. It's also very well promoted and the branding is great.'
Published on: 31/10/2019