Help with finding an address
Sometimes finding an address on our website is not straight forward. We have some tips to help you.
Are you looking for a flat?
Flats are listed at the end of the addresses for a street or postcode so please scroll down through the list of returned addresses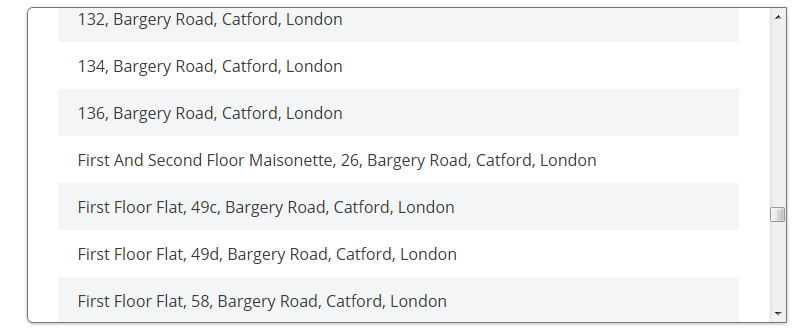 Is the list of results too long?
If you enter only a street name or part of it (especially popular names like "Bromley" or "High") the list of addresses returned is very long and it will be difficult to find what you are looking for.
Are you looking for an address outside London Borough of Lewisham?
There are cases in which not all addresses for a postcode outside Lewisham are listed. If your address is not on the list please get in touch using the online form below.
Are there no results?
Have you checked your postcode?
If you have entered a postcode and no addresses are found, there is a chance that the postcode is wrong or mistyped.
Is the address you are looking for a new build?
In this case there is a chance that we do not have your address in the system yet. Please use the form below to let us know.
Contact us
Published on: 24/11/2022