Maroon plaques
Find out about the Lewisham maroon plaques scheme and how you can nominate someone for a plaque.
What is the maroon plaques scheme?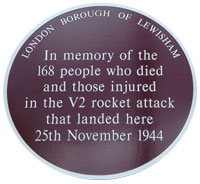 The Lewisham maroon plaques scheme celebrates the remarkable endeavours and achievements of some if its former residents and commemorates significant historical events that have occurred in the borough.
There are over 20 maroon plaques in Lewisham, commemorating people such as:
Edith Nesbit, who wrote The Railway Children
Dietrich Bonhoeffer, one of the leading theologians of the 20th century
Margaret and Rachel McMillan, social reformers and educational theorists who had a significant influence on the development of nursery education.
Maroon plaque nominations
Help us commemorate Lewisham's past by nominating someone for a maroon plaque.
In order to be considered for a maroon plaque, a nominee must meet all of the following criteria:
has contributed to human welfare or happiness and deserves recognition for it
is notable in their field
is a well known figure
lived in, or had very strong links with the borough
is no longer living, and sufficient time has elapsed since their death to show their lasting contribution to society.
How do I propose someone for a plaque?
Complete our nomination form, explaining why you think the person should be commemorated with a maroon plaque.
All nominations will be considered for inclusion.
Lewisham aims to erect two plaques a year and we will keep all nominations for consideration each year.
Existing maroon plaques
Below is a list of the plaques we are aware of.
If you know of any more please contact the Local history and archives centre.
List of maroon plaques in Lewisham
Baird, John Logie
Linnell, John and William Blake
Baring, Sir Francis
London Borough of Lewisham
Baxter, George
McMillan, Margaret and Rachel
Blackheath Football Club
Morrison, Herbert
Blake, William and John Linnell
Neighbourhood Office
Bonhoeffer, Dietrich
Nesbit, Edith
Connell, Jim
Peter the Great, Tsar of Russia
Deptford Station
Ross, Sir James Clark
Dowson, Ernest Christopher
Shackleton, Sir Ernest
Duncan, Leland Lewis
Site of Ladywell Mineral Spring
Flecker, James Elroy
Smiles, Samuel
Glaisher, James
Sturdee, Thankfull
Grace, Dr William Gilbert (W.G.)
Tallis, John
Greening, Edward Owen
Unwin, Sir Stanley
Greenwich and Lewisham History Trail
V1 Incident, Lewisham High Street
Grove, Sir George
V2 Incident, Woolworths, New Cross Road
Hepworth, Cecil
Wallace, Edgar
Horniman, Frederick John
Wallis, Sir Barnes
Jefferies, Richard
Wesley, John at The Limes
Jordan, Dorothea and King William IV
Williamson, Henry
King William IV and Dorothea Jordan
Young lives lost in the New Cross fire of 1981
Lewisham Town Hall


Other plaques in Lewisham
Apart from maroon plaques there are a number of plaques erected by private individuals, organisations and business.
Contact
LOCAL HISTORY AND ARCHIVES CENTRE, LEWISHAM LIBRARY, 199 201 LEWISHAM HIGH STREET, HITHER GREEN, LONDON, SE13 6LG
Published on: 19/10/2010