People's Day accessibility guide
Read accessibility information for People's Day.
This guide contains key information about accessibility and a summary of what to expect on the day.
Overview
Dementia Friends
If you have any questions about access, call the events team on 020 8314 7321 or email events@lewisham.gov.uk.
Key information
If you have any problems on the day, ask for help at the information point, which is near the children's play park.
If you need medical assistance on the day, please go to one of the first aid points. Lewisham Hospital A&E is also nearby.
You can buy different types of food and drink at the festival, but you are welcome to bring your own.
Blue Badge parking is located at the Stainton Road entrance.
You are free to come and go as often as you like throughout the day.
If you get lost, or lose your companion on the day, our event staff or security can help you find your way or put out a call to locate your companion.
People's Day is a breastfeeding-friendly event. If you would like a comfy chair, changing table or to meet peers, head to the Family Information Service tent, near to the George Lane entrance.
What to expect when you're planning to visit Lewisham People's Day
People's Day takes up the whole of Mountsfield Park, Catford. It is free to attend, but you might want to bring money for food or other attractions.
The event opens at 12 noon and closes at 9pm, last entry 7.30pm. To ensure everyone's safety, we will be searching bags on your way in to the park. This may mean that there will be queues to enter. The park can get quite busy, but there are spaces to sit and rest, including the community garden, which is near the café.
There are seven stages around the site. Not all performances are musical performances: there is art and drama on the day as well. While there are quieter spaces, there is likely to be some noise throughout the site.
There is a craft market where people display their arts and crafts, sometimes selling them and sometimes running activities. There are lots of other stalls for businesses or charities who want to tell you about what they do, raise money or run activities.
Watch a video about what you can expect to find at People's Day.
BSL
For visitors who use British Sign Language (BSL), we will have a BSL interpreter onsite from 12.30.30-6pm.

They will be based at the information point and are available to sign performances.

Please contact events@lewisham.gov.uk before Thursday 14 July if you would like to make contact with the interpreter.
Mobility
There is step-free access to the park from the George Lane and Brownhill Road entrances. The George Lane entrance is entirely flat and the Brownhill Road entrance is on a slope.

The park has a smooth path which runs across it between entrances.

The park is on a slope, with the majority of activities at the top of the slope, and a youth orientated stage near to the Carswell Road entrance.

Accessible toilets are available at at all toilet blocks.

Blue Badge parking is located at the Stainton Road entrance.
Dementia
We are working with the Alzheimer's Society towards becoming a dementia-friendly festival.
There will be signage for key parts of the event with both pictures and words, and people with dementia can get help at the information point.
The majority of security and event staff on the day will be Dementia Friends. Alzheimer's Society's Dementia Friends programme is the biggest ever initiative to change people's perceptions of dementia. It aims to transform the way the nation thinks, acts and talks about the condition.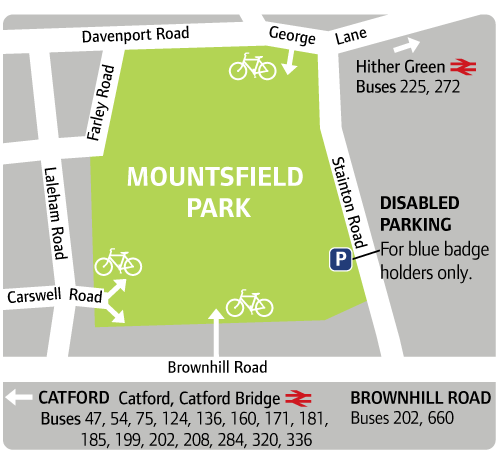 Published on: 01/08/2022