Year 6 class plant legacy fruit orchard in Durham Hill park
Cllr Patrick Codd, Cabinet Member for Environment and Transport, was joined by an enthusiastic Year 6 class from Good Shepherd RC School to help with the digging and planting of an orchard of 27 fruit trees in Durham Hill park in Downham.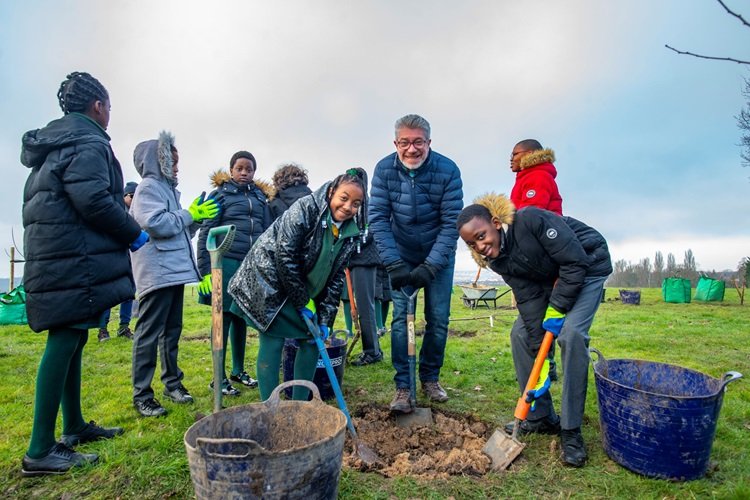 The children also had a lesson from a local expert about orchards and fruit trees and all the climate benefits that come with them.
The orchard is part of Lewisham Council's Treescapes project, funded by the Forestry Commission's Local Authority Treescapes Fund which aims to increase planting and natural regeneration of trees. As a result of this funding, 195 trees are being planted in five Lewisham parks this year: Durham Hill, Home Park, Horniman Triangle, Ladywell Fields and Sydenham Wells Park.
All these parks have historical significance. Horniman Triangle and Sydenham Wells Park were part of the historic Great North Wood of which now only a few fragments remain. Given the large-scale, historic loss of this woodland and with the current climate and biodiversity crises it is more important than ever to restore the remaining fragments to provide corridors of nature for our wildlife.
The other sites chosen also play a key role in connecting green spaces within Lewisham. Durham Hill is an important stepping stone between the ancient woodland of Elmstead Wood and the ancient woodlands of Downham Woodland Walk and Forster Memorial Park.
Additionally, many of the trees in Lewisham's parks have cultural and historic value being planted when the parks were first established over 100 years ago including the London plane avenue in Home Park and the very rare black poplar trees in Ladywell Fields. The project also contributes to the conservation of native black poplars, the rarest tree species in the UK.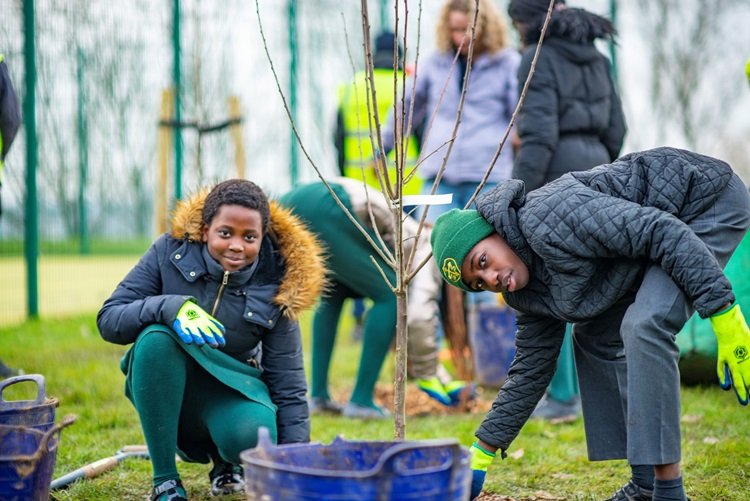 Cllr Patrick Codd, Cabinet Member for Environment and Transport said:
"It was wonderful to be at Durham Hill for the new orchard planting. As a Year 6 class, those pupils will soon be moving on to secondary school but they have planted a legacy which we hope they will return to, perhaps even with their own children in the future.
"Increasing tree cover is an important part of Lewisham's Parks and Open Spaces Strategy (2020-25) and Climate Emergency Action Plan and our aim is to support nature, promote biodiversity, improve air, soil and water quality and aid flood protection."
The Council has worked in partnership with local Friends and community groups in designing this project and will continue to work together with partners and local schools to look after these new trees for the community including watering, monitoring and collecting the first fruits once the trees are established.
Durham Hill is the location for another exciting tree project next month by Lewisham Council, in partnership with Earthwatch, called the Tiny Forest, an innovative planting scheme which speeds up tree growth. The Tiny Forest will involve planting 600 more trees which will make a total of 1063 trees planted on Lewisham streets and in parks this winter.
Published on: 27/01/2022