We're celebrating Black History Month
Dozens of events will be taking place across the borough to mark the culture, history and achievements of black and ethnic minority communities.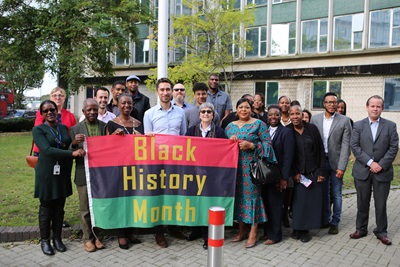 Local Black History Month celebrations were launched with a flag raising at the Civic Suite in Catford attended by Damien Egan, Mayor of Lewisham, and the mayoress, Barbara Gray.
Throughout October, we will be hosting events filled with music, literature, craft, cooking and more, all inspired by people of African and Caribbean decent and their cultures. For more details on what's happening, visit our Black History Month events page.
Councillor Jonathan Slater, Cabinet Member for the Community Sector, said, 'It's of great importance that we pay tribute to the rich history of our black and ethnic minority communities, especially in one of the most ethnically diverse local authority areas in the country.
'I'd encourage everyone to try to make it along to at least one of the events taking place over the next month in our local libraries, not only to learn more about black history – an often under-represented subject, but also to get together with neighbours and to have fun!'
Published on: 01/10/2019