Night Time Czar visits Deptford, Lewisham and Catford
Amy Lamé, the Mayor of London's Night Time Czar, has visited some of the borough's vibrant venues and bars to talk to staff, owners and patrons during a night-time tour through Deptford, Lewisham and Catford.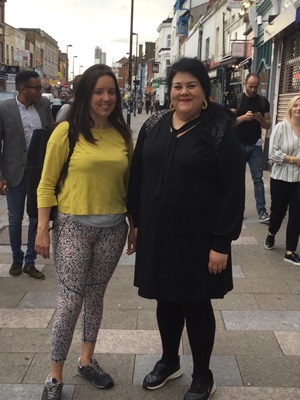 The tour, which took place on Friday 21 June, also included a visit to the Accident and Emergency Department at Lewisham Hospital to hear from duty staff about their experiences of working at night. The venues visited included:
The Albany
Buster Mantis
Deptford Does Art
Model Market
Bottle Bar and Shop
Ninth Life
Lewisham A and E.
Amy's visit highlighted the significant developments that have enhanced the borough's evening and night time offer in recent years. With the transformation of Deptford town centre, the ongoing regeneration in Catford and the launch of a Creative Enterprise Zone in Deptford and New Cross, our night life is going from strength to strength.
Women's Night Safety Charter
During the visit, we signed up to the Mayor of London's Women's Night Safety Charter, a seven-point pledge to make London a city where all women feel confident and welcome at night. We are now committed to:
nominating a champion who actively promotes women's night safety
demonstrating to staff and customers that they take women's safety at night seriously
telling staff what to do if they experience harassment when working, going out or travelling
encouraging reporting by victims and bystanders
training staff to ensure that all women who report are believed
training staff to ensure that all reports are recorded and responded to
designing public spaces and work places to make them safer for women at night
Councillor André Bourne, Cabinet Member for Culture, Jobs and Skills, said: 'Lewisham's night time entertainment is thriving and growing. The borough's vast eclectic mix of bars, pubs, restaurants, cinemas and music venues are seeing greater numbers of people choosing to spend their evenings and nights out here. It's important that women feel able to enjoy their nights out and this is why we have proudly signed up to the Mayor of London's Women's Night Safety Charter. We will work with local businesses to foster an environment for women where they can enjoy everything that Lewisham has to offer safely.'
Councillor Octavia Holland, our Women's Night Safety Champion, said: 'We're lucky to live in a borough with such a diverse, creative and prosperous night life, but it's unacceptable that for women these benefits come with an increased risk of violence. In our Corporate Strategy we made a commitment to build safer communities in Lewisham, and by signing the Women's Night Safety Charter we're backing our words up with action.'
Published on: 25/06/2019