Lewisham's A-level stars celebrate top results
Teenagers in Lewisham are celebrating great A-level results that will see them head off to top universities later this year, including Oxford, Cambridge, Kings College London and the London School of Economics.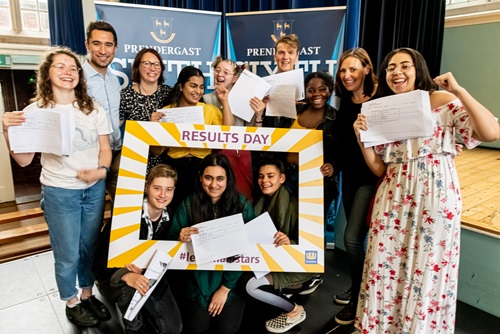 There have been individual success stories across schools and colleges in the borough.
Prendergast Sixth Form student Charlotte Bogle, 18, achieved two A*s and two As and will be heading off to Oxford University to study chemistry. Fellow student Leyla Reveillon-Kessali, 18, overcame personal challenges to achieve three As and secure a place at Cambridge University to study history and politics.
Joey Weller, who studied for his GCSEs at Prendergast Vale before attending Prendergast Sixth Form, gained three A*s and will be studying physics at Durham University. He said, 'I am completely in shock. I actually checked UCAS before I came here to get my results to see if I had been accepted and I was! I took a screen shot and showed my family as I couldn't believe it.'
Students at Sydenham and Forest Hill Sixth Form (SFH6) have also been celebrating their success. Jude Moyle, 18, gained one A and two Bs and will be studying English and film at Birmingham University. He said, 'I've never felt this proud of myself before – well except once! I never felt this good, especially as I was a bit stressed out. I barely slept last night!'
Maya McFarlane, 17, will be going to Cambridge to study human, social and political sciences after getting three A*s. She said, 'I'm very happy. It's my birthday tomorrow so this is a great present.'
Damien Egan, Mayor of Lewisham, and Vicky Foxcroft, MP for Lewisham Deptford, joined students at Prendergast Sixth Form as they received their results.
Damien said, 'Congratulations to everyone receiving their results today. Lewisham's young people have worked so hard for these results and it's fantastic that they'll be off to a flying start as they move on to further education, an apprenticeship, university or a job. I'd also like to pay tribute to the dedication of teachers and staff in our schools in supporting our students to achieve their best and putting them on the road to success.'
Prendergast Sixth Form Headteacher, Paula Ledger, said, 'Congratulations to all the students who have worked hard for their success and done so well. We are determined that everyone who joins our sixth form achieves results they can be proud of and is able to realise their ambitions. We are delighted too for their families who play an important part in their success. We know they will keep in touch as part of the Prendergast family and join the ever widening group of Prendergast alumni who are so successful at university and in their careers.'
Published on: 15/08/2019