Lewisham Council gets tough on fly tipping
Nearly 500 fines have been handed out for fly tipping offences since August – a 1600% increase.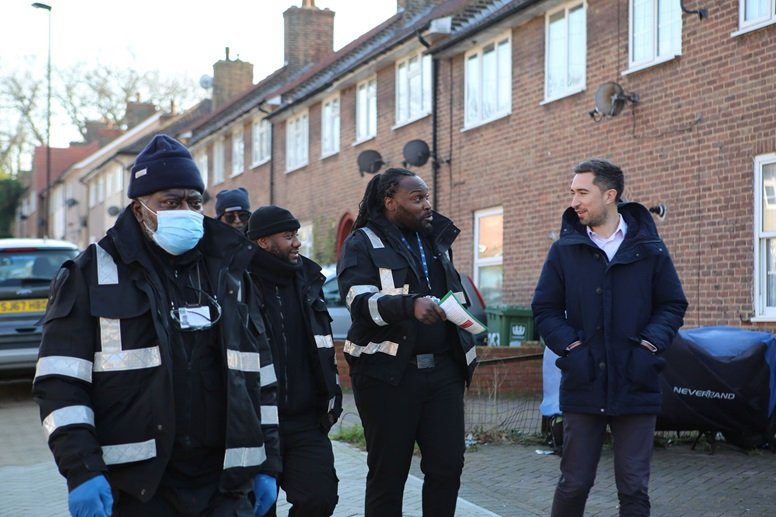 Lewisham Council is clamping down on fly tipping, with a zero-tolerance approach towards people illegally dumping rubbish. Since the launch of the Council's new environmental enforcement team in August 2021, nearly 500 fines have been handed out for fly tipping offences – a 1600% increase compared to the previous seven months.
The Mayor of Lewisham, Damien Egan, joined enforcement and cleansing teams from the Council on a joint operation in Whitefoot this week, along with Cllr Sophie McGeevor, Cabinet Member for Environment and Transport. On the visit, the Mayor pledged "zero tolerance" on fly tipping in the borough, as part of the Council's Cleaner Lewisham campaign.
When fly tips are identified, officers quickly investigate and gather evidence to identify who is responsible, enabling them to take enforcement action. As well as a significant increase in fines, evidence collected by enforcement officers also led to the successful prosecution of a skip company last year for dumping asbestos in a residential street, resulting in a £3,725 fine.
Alongside the Council's enforcement officers, cleansing teams are continuing to clear rubbish from the borough's streets quickly and efficiently. Lewisham Council's cleansing teams remove 150 tonnes of fly tipping on average each month – equivalent to 12 double decker buses. Residents are able to report fly tipping and other street cleansing issues through the Love Clean Streets app or website, making it quick and easy to alert the Council to issues in their neighbourhood.
Damien Egan, Mayor of Lewisham, said:
"Lewisham has been targeted by professional fly tippers and it's costing the Council £750,000 a year to collect and dispose of waste left on our streets.
"That's why I've asked the Council to take a zero-tolerance approach to fly tipping in Lewisham. I've asked for more CCTV to be used to help get evidence that we can use to catch and prosecute offenders. We're handing out more fines to those responsible and we will be ring-fencing that income to fund more enforcement activities around the borough.
"As well as taking action against those caught fly tipping, our fantastic cleansing teams are working hard to ensure rubbish is cleared as quickly as possible, helping to create a Cleaner Lewisham for all of us."
Cllr Sophie McGeevor, Cabinet Member for Environment and Transport, said:
"There's no excuse for fly tipping, dumping rubbish or littering in Lewisham. Our enforcement and cleansing teams do an incredible job of investigating fly tipping, taking action against those responsible and ensuring rubbish is cleared quickly and efficiently – I am grateful for all of their hard work."
Published on: 09/03/2022