Headliners announced for Lewisham's People's Day 2022. South East London's longest running FREE outdoor music festival is back with its biggest line-up yet.
People's Day 2022 returns on Saturday 16 July as part of We Are Lewisham, London Borough of Culture 2022.
Tippa Irie, Hollie Cook, Novelist and Nina Rose announced as headliners, as People's Day celebrates home-grown talent
Unit 137, All Day Breakfast Café and Otto and the Mutapa Calling also announced for the festival's 35th edition, which includes a mix of established artists alongside emerging local talent
BBC 1Xtra presenter, Shahlaa Tahira curates The Blue Borough stage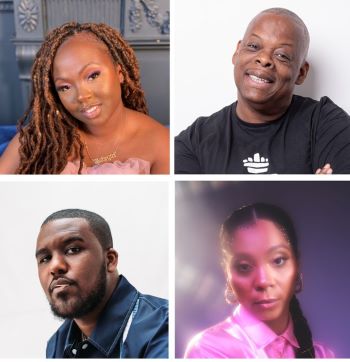 Lewisham's much-loved People's Day returns to Mountsfield Park on Saturday 16 July for the first time in four years. With a unique mix of artists celebrating the very best of Lewisham, this FREE outdoor music festival has a line-up to rival any of this summer's ticketed outdoor concerts.
Grammy-nominated reggae singer, Tippa Irie, returns to headline the main stage. He shares top billing with music royalty, Hollie Cook who brings her own brand of 'tropical pop' to the festival. Other confirmed acts for the main stage include All Day Breakfast Café, a seven-piece all-female group who have crowned themselves as South London's favourite disco band.
Homegrown talents Novelist, the grime MC, and singer-songwriter Nina Rose headline the Blue Borough stage – formerly known as the Young Mayor's stage. This year it's curated by Lewisham-raised 1Xtra DJ, Shahlaa Tahira, showcasing local musicians, alongside rappers Koder and Don Strapzy and CassKidd on the bill.
Unit 137 will celebrate their 10th birthday, with a Sound System showcase of friends and family from their base in Hither Green, including DEM1NS, Bun Dem Out Records, Lionz Den and Síbín.
In addition to the musical line-up, People's Day presents Climate Conversations - an all-day open space with talks and performance on the themes of climate and social justice, as part of We Are Lewisham's call to action on the climate emergency. Expect art installations, performance and workshops from local and international activists.
Fitness, family, cultural events and activities will also be on offer throughout the day. The Flying Seagull Project– known for their work with child refugees around the world in 23 countries – will take over the Kids Stage, bringing laughter, fun and play to Lewisham's youngest audiences.
There will be community and craft stalls, food from all over the world and craft ales. People's Day prides itself as a festival for people of all ages and cultures to enjoy – celebrating the diverse blend of communities that makes Lewisham the place it is.
The Mayor of London, Sadiq Khan, said:
"It's great to see the return of People's Day in Lewisham. This free festival is a celebration of all the wonderful things Lewisham has on offer, with its fantastic music, food and, most importantly, its people. For years it has brought together communities from all corners of the borough to showcase their talents and traditions to Londoners, and after four years away, it's a fitting way to mark Lewisham's year as London Borough of Culture."
Cllr James J Walsh, Cabinet Member for Culture, said:
"People's Day is a Lewisham institution I'm proud to have grown up with and now get to bring to a new generation for 2022. From big tops filled with family fun, festival art installations, aerial and circus artists, craft and community markets, immersive 'art, climate and culture' projects to three stages bringing you the authentic sounds of Southeast London, there's something for everyone at this year's Peoples' Day.
"Lewisham has always been bursting at the seams with talent. Elevated by our year as London Borough of Culture, this year's free festival will give the greatest platform yet, showcasing the high quality and diverse music, art and culture scene Lewisham has to offer. Sadly, during the pandemic this sector was one of the worst hit. Through this festival, and our wider Borough of Culture programme, we will not only support hundreds of local artists, creatives but also the industries that support them recover, by bringing the people of Lewisham back together at amazing events like this."
Shahlaa Tahira said:
"As a local girl, I know how important People's Day is to the community so it was a huge honour to be asked to curate the Blue Borough Stage. There's a massive pool of talent from Lewisham, emerging from the local scene – I'm excited to be able to showcase it."
Gates open at noon with the entertainment running until 9pm. For more information visit wearelewisham.com/peoples-day.
-NOTES TO EDITORS-
About Tippa Irie
Tippa Irie is a British reggae singer and DJ from South London. He first came to prominence in the early 1980s as an MC on the South London reggae soundsystem, Saxon Studio International, which has been at the forefront of the U.K. reggae dancehall scene for the past 25 years and helped launch the careers of artists such as Maxi Priest, Papa Levi and Smiley Culture.
About Hollie Cook
Singer and keyboardist Hollie Cook combines her unique vocal talent with charming charisma to craft her own dynamic strand of lovers rock with enduring tropical vibes, weaving a path from her London roots to an arena of diverse collaborations, critically acclaimed records and iconic live appearances around the world. Hollie is a former member of the punk/reggae band The Slits.
About Novelist
Lewisham born and bred, Novelist is Proud of his foundation as a local boy and increasing influence on the international stage. He was nominated for a Mercury Prize in 2018 and his new G-Funk fuelled EP '4 Tha Homiez' released in May 2022 went to number 1 in the iTunes UK Hip Hop Album Charts.
About Nina Rose
Singer songwriter, Nina Rose, released her debut single 'Like I Do' in July 2020, followed by 'Motorway', 'Take It All', 'High', 'Sweet Talk' and 'Money Man'. Her sound is alternative (Alte) with huge influences from RnB , Soul, Jazz and Afrobeat.
About Shahlaa Tahira
Shahlaa Tahira is a Lewisham-raised, BBC radio producer and presenter.
About We Are Lewisham
Lewisham is the Mayor's London Borough of Culture 2022. The year-long cultural programme, We Are Lewisham, is a celebration of our history, people and place, with hundreds of events happening across venues, parks and street corners. Led by Lewisham Council and the Albany and created by and with the people of the borough, the programme is inspired by Lewisham's history of activism and standing up for equality. It celebrates the borough's diversity and trailblazers past and present, highlighting the power of culture to create change.
About the Mayor's London Borough of Culture award
London Borough of Culture is a Mayor of London initiative, launched in June 2017. The award puts culture at the heart of local communities, where it belongs. It shines a light on the character and diversity of London's boroughs and brings culture to everyone, so that all Londoners have the chance to be part of something extraordinary.
About Lewisham Council
Lewisham is a vibrant and culturally diverse borough. This reflected in all aspects of daily life, from the response to the pandemic where the community rallied to support our most vulnerable residents, to the 170 languages spoken in our homes, schools and businesses. We have a rich history of welcoming people from all over the world and are proud to be recognised as the UK's first Borough of Sanctuary, for our work in championing the rights of refugees and migrants.
We are committed to tackling inequalities so that everybody has the opportunity to succeed. The pandemic has shone a light on the disparities experienced by those from Black, Asian and Minority Ethnic (BAME) backgrounds in all areas of their lives. In November, Lewisham became the first local authority to commission a headcount study of high streets to better support our BAME independent retailers through Covid 19 recovery and to champion the diversity of town centres.
As we plan ahead, we are working towards a fairer, greener, healthier and more economically sound future for all in Lewisham. This means continuing our efforts to tackle climate change for generations to come; ensuring that good health and wellbeing is equally accessible to everyone; and safeguarding local jobs and upskilling residents with tools they need to succeed. Building on the community spirit and activism that has helped us through the pandemic, we are committed to creating a Future Lewisham we can all have a part in.
Thank you to our Sponsors
We are grateful for the support of our Climate Programme Partner, Muse.
The programme for London Borough of Culture 2022, We Are Lewisham, is presented by Lewisham Council in partnership with the Albany.

London Borough of Culture is a Mayor of London initiative.
Published on: 09/06/2022