Deptford children to help design three new playgrounds with Lewisham Council
Lewisham Council has announced funding for a major project to upgrade play areas in three popular Deptford parks.
Lewisham Council has announced funding for a major project to upgrade play areas in three popular Deptford parks. Evelyn Green, Sayes Court and Folkestone Gardens will all benefit from refurbishments which are due to take place in the coming months, including revamped playgrounds and an upgraded multi-use games area and outdoor gym.
The Mayor announced the new playgrounds in Evelyn with Lewisham's three Mayoresses, pictured, who have been campaigning for more play areas for young people in the area.
Following consultation with residents groups including Friends of Sayes Court and Deptford Folk to understand what users wanted to see featured in the parks, the Council has now identified funding to secure these upgrades. The improvements are intended to maximise the spaces for play for children and their families and are being funded by contributions from local developments.
The £700,000 project will include the refurbishment of existing playgrounds and games areas in the parks alongside some new additions. The Council will be co-creating these spaces with young playground users and will involve children in the design process.
During the first national lockdown, Government rules meant that playgrounds had to be closed. The Council's investments in Deptford parks now are a recognition of the importance of play and physical activity for children. In a particularly densely populated area of the borough where many residents do not have gardens, the upgrades will cultivate a space for children to explore, socialise and enjoy.
Alongside the £700,000 for Evelyn Green, Sayes Court and Folkestone Gardens, the Council will continue to work with community groups to secure future funding for further green investments in Deptford.
Damian Egan, Mayor of Lewisham, said:
"Play is a vital part of growing up. I am delighted to be announcing today that Lewisham Council will be supporting these much needed community projects. Evelyn Green, Sayes Court and Folkestone Gardens all enjoy high numbers of visitors and are very popular with local families. We will be working with local children themselves as part of the design process to make sure we are creating lasting places for our young people to explore, socialise and enjoy. I want to thank our three Mayoresses for their passion for play, and for successfully campaigning for these new playgrounds."
Cllr Sophie McGeevor, Cabinet Member for Environment and Transport, said:
"Enhancing the borough's green spaces is one of the council's key priorities. Being able to access parks and play areas not only has a positive impact on our children, it benefits us all. I am delighted that our plans to improve these playgrounds are coming to fruition and that work will soon be underway."
The Mayoresses of Lewisham, who volunteer at the Evelyn Community Store in Deptford, said:
"We've been campaigning for new playgrounds because they will be transformational for young families in this area. Having a safe, outside space for creative play is such an important aspect of any childhood so it's great to know we have the funding in place to improve local play facilities. We have no doubt whatsoever that they'll provide our youngest residents with many years of pleasure."
Work will begin on the playground in Sayes Court shortly and is due for completion by autumn 2021. Improvements to Evelyn Green and Folkestone Gardens will start later in the year. For more information regarding parks and open spaces in Lewisham, please visit: lewisham.gov.uk/parks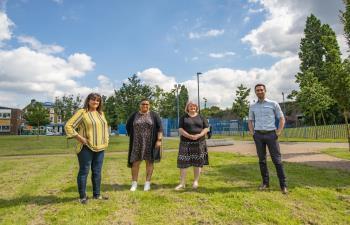 Published on: 16/07/2021
Continue reading...