£1.7 million boost for Lewisham's small businesses
Hundreds of jobs have been safeguarded following a funding boost from Lewisham Council.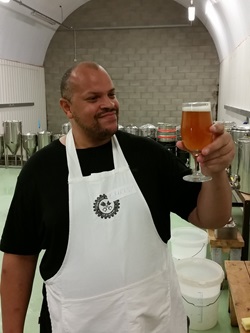 Launched in June, the Small Business Support Fund was set up to provide support to local charities and local businesses hit hard by the Coronavirus pandemic and to protect jobs and livelihoods. Many businesses have experienced a significant decrease in income and up until now have fallen through the cracks of other government support measures.
The fund is supporting s businesses in shared offices and flexible workspaces, businesses in the creative and cultural sector and the night time economy and businesses that are crucial for local growth and regeneration.
The council prioritised Living Wage businesses, those committed to environmental sustainability, and those that demonstrated potential to drive local growth.
Over the past three months, the council has distributed over £38 million in emergency grants to local small businesses that have been hit hard by the crisis.
Lewisham council has also taken action to help residents, distributing £2.5m in emergency funding to support people through the crisis.
Cabinet Member for Culture, Jobs and Skills Councillor Joe Dromey said:
"We are committed to building a strong local economy which works for the many.
"The Coronavirus crisis has hit local businesses hard. Lewisham Council will do whatever we can to support businesses through these tough times. We're really pleased to have helped protect hundreds of jobs locally through these grants.
"We're calling on local residents to do their bit by supporting the independent local businesses that are so important to our local economy."
Ignition Brewery is a not-for-profit business which trains and employs people with learning disabilities and pays the London Living Wage. Nick O'Shea, Ignition Brewery Founder said:
"We are incredibly grateful to Lewisham Council for awarding us a Small Business Support Grant – both the financial and the moral support it brings. It has given us the strength to keep going and the freedom to try new ways to trade, brew and contribute to keeping Sydenham High Street a desirable and fun place to visit. We feel extremely valued by the local community and it's great to be able to know we can continue to be a part of it.
"We are now confident that we can sustain our staff team and continue trading through winter and into Spring – which was going to be a tricky time for us. We are feeling the Love from Lewisham and reflect it back with enormous thanks and appreciation."
Nick Merriman, Chief Executive of the Horniman Museum and Gardens said:
"The Horniman is the largest cultural organisation in the borough, and supports nearly 200 part-time and full-time jobs. Being closed for four months has had a significant impact on our business, so the Small Business Support Grant is invaluable in helping us retain jobs as we reopen from 30 July. It's a wonderful token of appreciation for all that we do for the local community."
Published on: 07/08/2020