Mental Health Awareness Week - Lewisham's outpouring of kindness during the COVID-19 lockdown
This week is Mental Health Awareness Week and the theme is kindness, so what better time to acknowledge the many acts of kindness shown across the borough since lockdown? Below are just a few examples and we're keen to highlight as many as we can.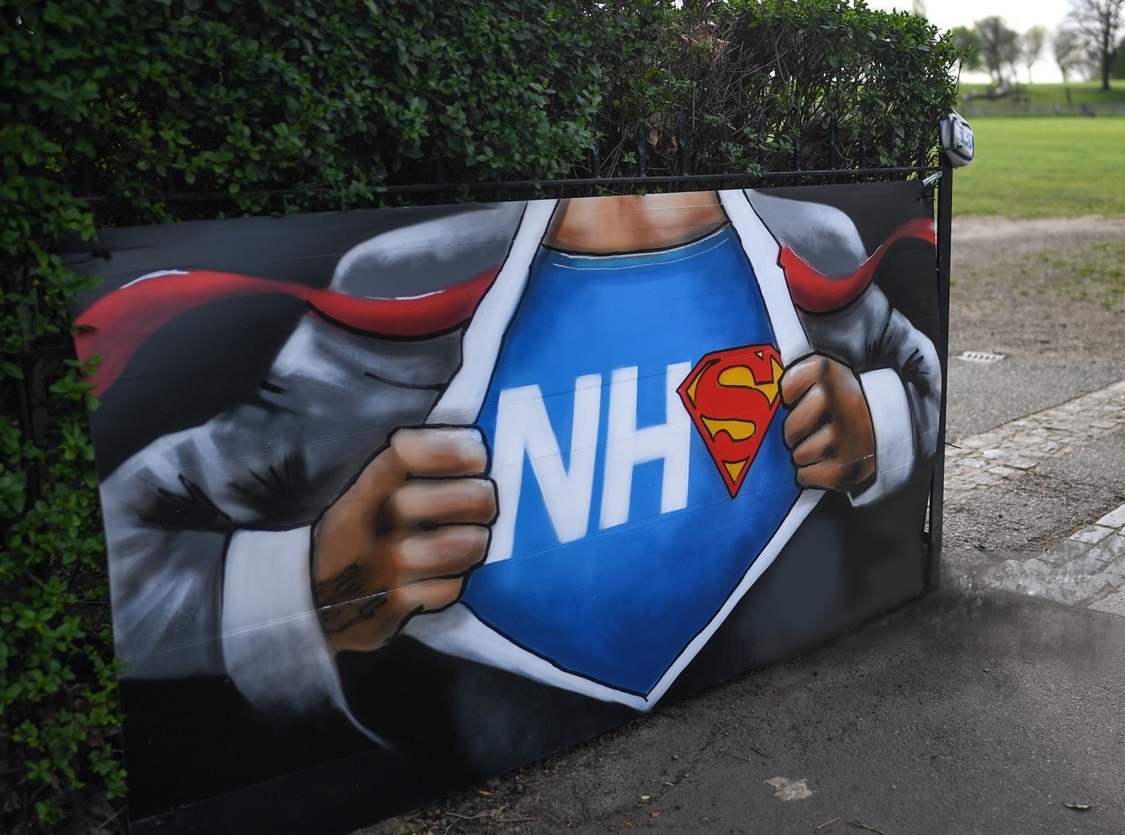 'Lionel Stanhope's tribute mural to the NHS'
During these very challenging times, we've seen a remarkable community spirit emerge and an outpouring of kindness by individuals, groups and businesses across the borough.
From residents running errands for their more vulnerable neighbours to catering companies providing food for frontline workers; from schools donating protective equipment normally used in science lessons to members of the public donating money to help feed those most in need – the generosity and thoughtfulness that has been shown by our community is fantastic.
There's no doubt that anxiety and loneliness are hitting some people particularly hard at the moment. It's all the more important for us to be kind to each other. If you have seen or experienced kindness that you would like to share, please email us at lewishamlife@lewisham.gov.uk. Below are just a few examples of acts of kindness carried out across the borough.

Goldsmiths University's computing team set up 3D printers in their own kitchens to produce face shields for frontline workers. Dr Theo Papatheodorou and Jesse Wolpert have been working from home to produce about 80 face shields a day.
Extra Tasty Ice-Cream business-owner Mehmet Medi gave out 1,200 ice creams to the staff at University Hospital Lewisham and Queen Elizabeth Hospital on a sunny afternoon.
Street artist and Brockley resident Lionel Stanhope painted tributes to the staff at University Hospital Lewisham. You can see his superhero piece tied to railings on Hilly Fields and his medal artwork on Lewisham High Street. Lionel said, 'As an artist and street artist, this is an obvious time for me to express through my work a recognition of the NHS's incredible efforts during the pandemic.'
Pinnacle Group's housing team in Brockley have been reaching out to all the vulnerable and elderly residents in their 2,000 properties across the borough. One pensioner was down to her last two tins of food – but Pinnacle arranged for a food delivery within the hour.
Bella Roma pizzeria in Lewisham has been delivering free fresh pizzas to University Hospital Lewisham, including on Easter Sunday, as a way of thanking them.
The Young Mayor's Team has launched a campaign promoting the wide range of mental health support available to young people in Lewisham during lockdown. Running until Sunday 24 May, the campaign encourages you to share your ideas and examples of acts of kindness during these anxiety-inducing times. Whether this is a mere suggestion, photograph, story or poem, all ideas are welcome in the hope of including them on the Young Mayor's Instagram feed and blog space. See how you can take part in the The Young Mayor's Team's campaign. #MentalHealthAwarenessWeek #KindnessMatters #LewishamSmiles2020
Published on: 19/05/2020