British Sign Language (BSL) support for residents who are deaf or hard of hearing
We provide a free 24-hour online interpreting service called SignLive for British Sign Language (BSL) users who want to contact us during office hours or use our out of hours service during an emergency.
How the online BSL interpreting service works
To use the online interpreting service you need a device with a webcam and sound.
You can use it on:
an Android or Apple smartphone
a computer desktop
a tablet.
When you log in you are connected using a secure video link to a BSL interpreter. They then translate the conversation between you and a member of staff at Lewisham Council.

The app and the service are both free.
How to register to use the online BSL interpreting service
The first time you use SignLive you will need to register. To register and download the app, either visit the SignLive login page or scan the code below using a QR reader.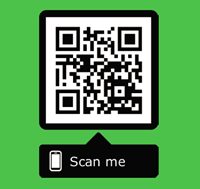 If you have a Facebook or Google login you can use it to login to SignLive on your desktop without having to download software or plug-ins.
You can also download the SignLive app from the App Store or Google Play – just search for SignLive.
For more information on all the ways of accessing the service go to the SignLive registration page.
How to use the online BSL interpreting
Log in on the desktop or app and look for Lewisham Council logo in the SignLive directory.
App Store: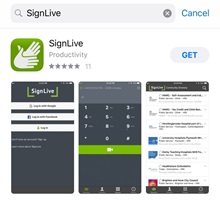 Google Play:
Once your call is put through to an interpreter, tell them:
you want to call Lewisham Council
briefly what the call is about
which department you want to speak to (if you know).
The interpreter will then call us and interpret your conversation using a live video relay service.
If you have technical difficulties with SignLive
If you have technical problems using SignLive, please contact SignLive Monday to Friday, 9am to 5pm on:
hello@signlive.co.uk
0330 822 0822.
Using the online interpreting for meetings in our buildings
If you visit us at one of our buildings then a member of staff will be able to access SignLive using a laptop, tablet or smartphone. We can login in to SignLive for you and use a webcam to speak to the BSL interpreter. Please speak to a member of our reception or security staff when you arrive.