Energy centre and sustainability
Renaissance is one of the first mixed-use developments in the UK to reach Code 4 of the Code for Sustainable Homes, and includes its own on-site energy centre, located at street level off a new pocket park and opposite Jerrard Street.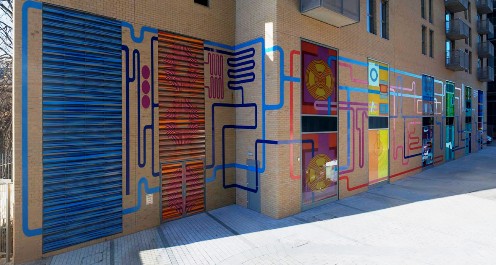 The energy centre contains a gas powered engine known as a CHP ('Combined Heat and Power') which generates both electricity and heat, as well as a biomass boiler and gas boilers. Heat energy for residents' heating and hot water requirements is generated within the energy centre and then distributed via an energy network to a Heat Interface Unit situated within each property, negating the need for conventional gas boilers. The energy centre has been designed to produce sufficient heat to meet the demands of all Renaissance's residents, even on the coldest day.
As well as heating the whole of Renaissance (leisure centre and London City Mission included), the energy centre will also supply electricity to the homes in the block above, as well as to the leisure centre. Excess electricity generated within the energy centre is exported to the National Grid, and the revenue generated offsets the cost of producing heat.
Once fully operational, the energy network at Renaissance is expected to reduce carbon emissions by over 30% compared to traditional gas heating. When this approach to heating is combined with the developer's building fabric improvements, carbon emissions will be reduced by over 44%. In addition, over 40% of heat is expected to be met from renewable fuel.
Over time, the Renaissance energy network could extend beyond the boundaries of the current site to supply future developments in the town centre, including the adjacent Prendergast Vale College. This is in line with the Mayor of London's target for 25% of London's energy to be supplied by decentralised energy (i.e. energy generated more locally) by 2025.
Local artists Martin Richman and Mark Bayley, selected from a shortlist of four in December 2010, have designed the 35-metre façade for the energy centre – an illuminated visual representation of power generation and usage across a series of large glazed units and brickwork. Martin and Mark's commission is part of a cultural strategy for Renaissance which aims to create a cultural identity for the area, support a cultural connection to Lewisham town centre, improve public spaces, and encourage pedestrian use.
Martin explained: "The intention was to make a graphic representation of power generation and its subsequent distribution and use in the home. The applied 'pipework' helps convey a sense of energy flowing through the development, as well as helping to tie together the disparate elements and creating a unified piece of work. It was important to us that features such as the venting panels could become visually arresting icons in their own right, by relatively simple application of film.
We were aware that pedestrians and cyclists will pass by the building, and the finished installation creates a lively sense of place, and makes an important addition to what may otherwise have been a dull brick wall."
Published on: 04/05/2022