New public health campaign in partnership with local young people
Lewisham Council have launched a new public health campaign in partnership with local young people.
As part of the Childhood Obesity Trailblazer Project, Lewisham's young residents have collaborated on the design of a new poster to be displayed on 12 digital screens along Lewisham High Street from 18 March. Read more about our Childhood Obesity Trailblazer Project.
This project is a government-backed scheme focusing on the use of advertising to help address challenges caused by childhood obesity across the borough. The project shall use donated advertising space on Out of Home advertising sites to promote locally tailored public health campaigns and encourage healthy lifestyle choices.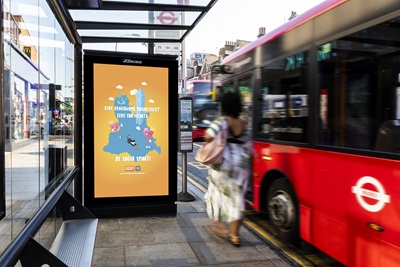 Funded by the Department of Health and Social Care and the Local Government Association, we are working in partnership with JCDecaux, Outsmart (representing Outdoor media owners) and ISBA (representing brands).
Donated advertising space will be used to promote tailored local public health campaigns, such as Sugar Smart Lewisham, which supports local businesses to offer healthier options, and the Daily Mile, which aims to improve physical activity levels of young children in the borough. Find out more about our Sugar Smart Lewisham campaign.
This initiative is the beginning of a wider goal for Lewisham's public health campaigns to be co-produced with local communities, including younger residents. The Lewisham Young Mayor's team have produced the first campaign to influence local businesses, asking them to sign up to the Sugar Smart campaign.
Read more about how we have joined forces with outdoor advertising companies to tackle childhood obesity.
Cllr Best, Cabinet Member for Health and Social Care, said:
"I am very proud of the Council's work as a Childhood Obesity Trailblazer and it's fantastic to see young residents in Lewisham collaborating with us on this exciting project.
Co-production with our local communities is absolutely vital for ensuring effective public health campaigns and I look forward to seeing the final design."
Jacob Sakil, Advisor to Lewisham Young Mayor said:
"Being the first group of young people taking part in the Child Obesity Trailblazer Project, it has been really exciting to support public health in our borough and do it our way. When we first started putting ideas together for the Sugar Smart campaign, many of us did not think much about how we could actively change others views. We took time learning about planning, advertising and social change so we could upskill ourselves and then began creating our concept. Our poster reflects a message to businesses to get involved! With us as young people creating a poster encouraging businesses to get stuck in helps make this campaign more inclusive."
Andrew Jordan, Partnership Director at JCDecaux, said:
"JCDecaux UK is delighted to support this exciting initiative that uses the power of the public screen of Out-of-Home to champion public health in the borough of Lewisham. Out-of-Home plays a unique role in the daily lives of communities across the UK and this campaign will help keep this important issue front-of-mind with businesses and residents in Lewisham."
Published on: 18/03/2021